Emirates boss hails Anfield's side defensive shape but admits his team are tired.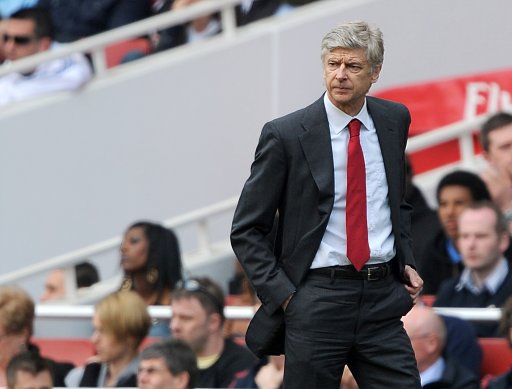 Arsenal manager Arsene Wenger has labelled Liverpool a 'long ball' team after the 1-1 draw at the Emirates on Sunday.
The game was decided by two controversial late penalties from Robin van Persie and fellow Dutchman Dirk Kuyt.
The draw seriously dented the Gunner's title chances as they trail leaders Manchester United by six points with six games to go.
Wenger refuses to surrender the title quite yet but does praise the Liverpool defensive unit.
He says his team are struggling to create chances as teams like Liverpool and Sunderland play with men behind the ball and aim to counter-attack.
"I don't know (if the title race is over), we dropped two points today," Wenger told the club's website.
"It was a difficult game against a Liverpool team who defended a lot and basically only defended.
"It was difficult for us to create chances because they defended very deep. When they had the ball they played long so it was important not to make mistakes at the back.
"They defended well, like most of the Premier League teams that come here now.
"Liverpool defended very deeply. Every time we had the ball we played eight against ten men in their half. You have to respect the quality of the defending as well.
"We tried everything to create chances. We had a few and that is what these kind of games are about. Sunderland and Liverpool both came with the same attitude.
"At the moment we have problems to create plenty of chances, it's true. But we are maybe jaded a bit physically as well.
"You could see that some players have played around 40-45 games and we lack a little bit of a change of pace, but we tried very hard."