Anfield and Old Trafford sides to fight for Belgian international.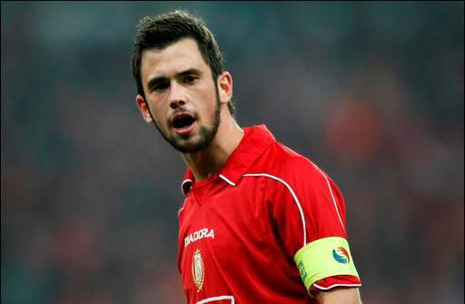 Liverpool and Man United are set to enter a bidding war for highly rated Standard Liege star Steven Defour who is tipped to leave his native Belgium this summer. The goalscoring midfielder has been a long term target of Sir Alex Ferguson but now Anfield director of football Damien Comolli has identified the creative youngster as a target.
Comolli may see Defour as a potential long term replacement for Steven Gerrard and the Standard Liege captain's leadership skills and the Merseyside club have reportedly made enquiries into the availability of the 23 year old and it seems the Belgian side are ready to cash in on their prized asset.
Manchester United and Liverpool are just two sides who are keen on the Mechelen born Defour and the likes of Benfica and Napoli are also both said to be readying moves to sign the stylish midfielder who is part of Belgium's new golden generation.
Since Kenny Dalglish's return to Anfield Liverpool have improved greatly and whilst Raul Meireles has chipped in with some crucial goals and Lucas has become more and more consistent the club could still do with another midfield option and Comolli has been monitoring Defour's progress this season.
Having spent a prolonged period of time out with a foot injury the Standard Liege captain is back in form and ready to deliver on his very obvious potential. Man United boss Ferguson is known to have sent Defour a letter of encouragement wishing him the best in his recovery and that led many to believe a bid would come from the Premier League giants sooner or later and it appears this summer may be the time to act.
Ferguson has been looking to bring in new additions to help the freshening up of a squad that is experiencing something of a transition from the old to the new. With Gary Neville and Edwin Van der Sar set for retirement and the likes of Paul Scholes and Ryan Giggs are nearing the end of their glittering careers and having brought in the likes of Chris Smalling and Javier Hernandez last summer and will continue to look to bring in long term replacements.
Defour is in many ways the perfect long term fill in for Scholes and it appears two Premier League rivals are ready to fight it out for a player who is considered one of the hottest prospects in European football.