Bernabeu boss plans big name signings to help gain ground on Catalan rivals.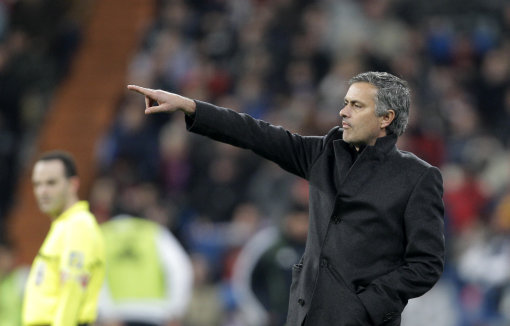 Jose Mourinho is planning a triple Premier League raid this summer as the Real Madrid boss prepares to make significant moves in the transfer market to help his La Liga giants gain ground on arch rivals Barcelona. The 'Special One' will be handed a significant transfer fund war-chest by club president Florentino Perez and the former Chelsea boss has earmarked moves for a trio of talented players from the English top tier.
First on his wish-list is Tottenham midfielder Sandro, a player that Mourinho is apparently a big admirer of and a player the Real Madrid manager feels will add some much needed steel to the centre of his midfield. There has been much speculation about a possible move for winger Gareth Bale but it seems that the left side is not an area that needs improvement with Marcelo and Cristiano Ronaldo being two of the club's most prized and most consistent assets.
Sandro arrived at White Hart Lane last summer after a protracted transfer deal was finally completed and the defensive midfielder has been hugely impressive when called upon and his two performances against AC Milan caught the eye of many of Europe's elite. If Harry Redknapp's side fail to secure a top four finish then Mourinho may feel he has a decent chance of coaxing the Brazilian international into moving to the Bernabeu.
Jose Mourinho is also looking to persuade Javier Hernandez to leave Man United to move to Madrid but knows that that could be a far tougher nut to crack, especially as it seems that Sir Alex Ferguson rates the Mexican so highly as to leave Premier League top scorer Dimitar Berbatov warming the bench in recent months.
Ferguson clearly sees a partnership of 'Chicharito' and Wayne Rooney as the club's long term strike pairing and thus makes a successful chase for the 22 year old a tricky one. That said, Real Madrid have of course lured big name Man United players in the recent past. Hernandez has had a stand out first season which has gone beyond the Man United boss's wildest imagination. The pint sized Guadalajara born striker has netted 17 goals in all competitions this season.
Mourinho has made it clear he intends on adding another striker to his squad this summer having seen how stretched Real Madrid became after Gonzalo Higuain was out with a long term injury a situation that did however help to push Karim Benzema into the fore and the French international did finally get his goalscoring boots on as a result.
Finally the Real Madrid boss is interested in Arsenal attacker Samir Nasri who is yet to agree a new deal at the Emirates Stadium leading some to believe that the French international may be considering his options. The adaptable ability of the former Marseille man to play either wide right or in the hole behind the strikers attracts Mourinho who was linked with a move for the 23 year old when he was Stamford Bridge boss.
Arsene Wenger may face a number of enquiries for his star performers if the North London club make it six seasons without silverware with the likes of Cesc Fabregas, Andrei Arshavin, Robin Van Persie and Gael Clichy all linked with potential summer exits.