Emirates star knows beating White Hart Lane rivals is important to maintain title challenge.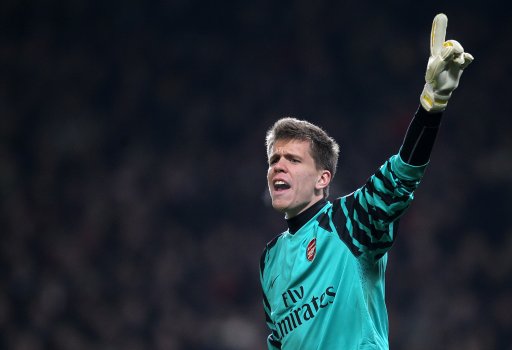 Arsenal goalkeeper Wojciech Szczesny knows the importance of beating local rivals Tottenham Hotspur to keep alive his title dreams.
The Gunners dropped two vital points against Liverpool on Sunday with Dirk Kuyt's controversial 102nd minute penalty equalising Robin van Persie's spot-kick.
Arsene Wenger's men trail leaders Manchester United by six points with six remaining. The margin could be extended to nine if the Red Devils beat Newcastle United tomorrow.
But Emirates star Szczesny is not giving up hope quite yet and is looking forward to beating Spurs.
He said: "Of course we still believe we can win the title.
"We still have to play United and they also have to play Chelsea. They will drop points and we believe we're good enough to win every game remaining.
"Tottenham is a very good match for us to come back from a big disappointment and we owe it to the fans because they're very disappointed about what happened against Liverpool.
"We owe them a result at White Hart Lane.
"The draw was a huge disappointment because with a minute to go we scored what we thought was a winning goal. We're all gutted.
"It was a cheap penalty to give away whether it was one or not. We needed to win really badly to keep the pressure on United."