Real Madrid boss may know how to get one over Catalan rivals but he's being lambasted for the style in which he does so.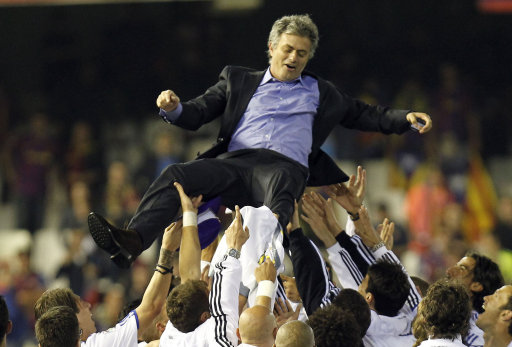 So the world of football was graced with two El Classico matches in the space of 4 days, and as usual "The Special One" Jose Mourinho dominates the headlines for different reasons. From a silent press conference before Saturday's showdown at the Bernabeau, to what many described as "anti-football" in the actual game itself. Even Real Madrid legend Alfredo Di Stefano criticised Mourinho's approach following the 1-1 draw in the first of four games between the rivals. Di Sefano claimed that Mourinho's approach was "clearly not the right one." The question that has been raised is how exactly are a team supposed to play against this Barcelona side? As of yet, no team or manager has presented a fixed or applicable solution, apart from Jose Mourinho in my opinion.
I notice that people continually point towards the 5-0 thrashing by Barcelona in the El Classico earlier on in the season, but Mourinho's Real Madrid that night was different to Mourinho's Real Madrid of the Copa Del Rey final. Real Madrid allowed Barcelona to play to their strengths that evening, failing to frustrate them. So what has changed since then? What has Mourinho done?
It took guts for Jose Mourinho to stick to his guns for the Copa Del Rey final and play the compact (not negative) Real Madrid that perhaps isn't as easy on the eye as people would like. Whilst it is clear that players such as Cristiano Ronaldo would like to play with more freedom, the Real Madrid squad have to avow to the fact that at the moment it seems like the most effective way to play against the current Barcelona side, which is a Barcelona that Real Madrid have never played.
Lets look at two key things which allowed Real Madrid to get the upper hand over Barcelona. One was playing Pepe as a defensive midfielder. In doing this Mourinho restricted the space Barcelona had in an area where the likes of Leo Messi, Xavi and Andres Iniesta can cause so many problems. He carried out his duties in that role to perfection, along with the industrious duo of Sami Khedira and Xabi Alonso. Another key was Real Madrid's deep defensive line. Barcelona had trouble finding gaps in behind the Real Madrid defence and although they dominated possession, they failed to convert this into chances as most of the passing was in Barcelona's half which left Real Madrid relativly comfortable and they were certainly quite content sitting back and letting Barcelona knock the ball around.
Of course there are negatives to Mourinho playing this way. The Real Madrid faithful aren't used to seeing their team trying to contain the opposition at home, and I certainly wouldn't buy a season ticket to watch a Jose Mourinho team either. But that most certainly doesn't bother Mourinho as we seen in the Copa Del Rey final when he played the same way. Mourinho isn't bothered about entertainment or the heavy criticism – Mourinho is a winner and always will be. Winning is the most important thing to him and if that means taking stick or playing "negative football", then so be it. The only criticism I would have (and a small one) is Mourinho's decision to play with three defensive minded midfielders, rather than two. Two would have been just as effective, and I think playing Mesut Ozil or Kaka would have allowed Real Madrid to be more effective on the break.
One thing we can be sure of is that Jose Mourinho has rocked Barcelona, and will place a hint of doubt in the heads of the Barcelona players with the coming Champions League ties to come. Another thing we can be certain of is that Mourinho will approach these games in exactly the same way, because at the moment Pep Guardiola has no answer to this problem. Two down, two to go, who will prevail?