San Siro striker linked with improbable move to the Emirates Stadium.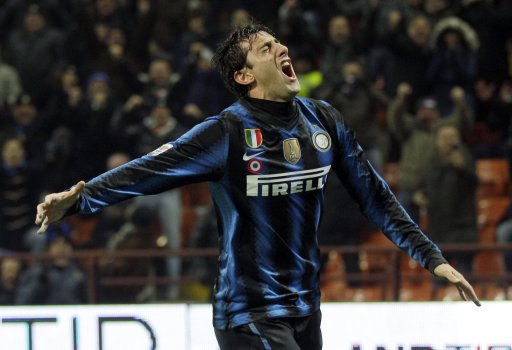 ARSENAL and Tottenham are in a £5million race to sign Inter Milan striker Diego Milito.
The Argentinian hitman has bagged 27 goals in 53 appearances for the Nerazzurri, keeping up a fine goalscoring record he started at Racing Club, Real Zaragoza and Genoa.
Now the Italian club's poor season, plus Milito's desire to play in the Premier League, have put the North London rivals on red alert.
His choice could depend on whether Spurs make it back into the Champions League next season.
He is determined to play in Europe's top competition again after Inter's failure to defend their crown this campaign.
Arsenal are almost certain to be there again but Spurs' presence hangs in the balance as they battle Manchester City for fourth spot in the Premier League.
Milito scored twice in Inter's 2-0 triumph over Bayern Munch in the 2009 final.
Tottenham are expected to part company with Russian forward Roman Pavlyuchenko this summer, while Arsenal desperately want to pair Robin van Persie with another sharp-shooter to avoid a repeat of lost opportunities this term.
SOURCE: The Sun
Really not sure where this one came from and not sure how much, if any, truth there is to this story. Would Diego Milito really be looking to leave Inter Milan? If the San Siro side were still managed by Rafa Benitez then perhaps but with Brazilian Leonardo at the helm things seem a whole lot more promising.
This source states that Milito is "determined to play in Europe's top competition again after Inter's failure to defend their crown", which implies that the Argentine will not be taking part in Champions League football next term if he stays at the Nerazzurri, which is odd as Inter Milan currently lie in second in Serie A.
Arsenal could well do with new attacking options with Nicklas Bendtner and Carlos Vela reportedly on their way out and with Marouane Chamakh's form dipping after a good start to the season. Robin Van Persie has been very consistent this season but clearly has injury concerns.
Milito is by no means a first choice starter at Inter Milan as the arrival of Giampaolo Pazzini from Sampdoria led to the former Genoa missing a chunk of the season and the 31 has also had time out with niggling injuries but a move to the Emirates seems something of a long shot and the proposed fee seems very small for a player who scored 30 goals last season.