Dutch club sign youngest ever player?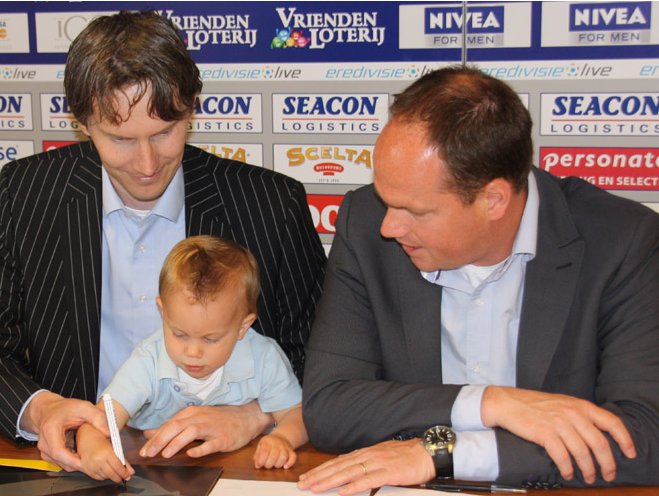 Baerke Meijer from Venlo reported this morning at Seacon Stadion – De Koel – for his first trial training at VVV-Venlo. Less than an hour later he signed a professional contract for symbolic 10 years. The favoured position of the toddler has not been determined. However, one can speak of a right-footed player with a very good kick technique, perseverance and, importantly: football genes grandfather van der Meij.
26 April 2011. VVV writes history will contract within one one toddler of 1.5 years. Under the watchful eye of father Jorg van der Meij, Baerke did his best to become a professional footballer, amazing  Ken Leemans with his technique. The reaction of the Venlo midfielder was so positive that commercial director / general affairs VVV-Venlo, Marco Bogers, immediately offered a professional contract of ten years.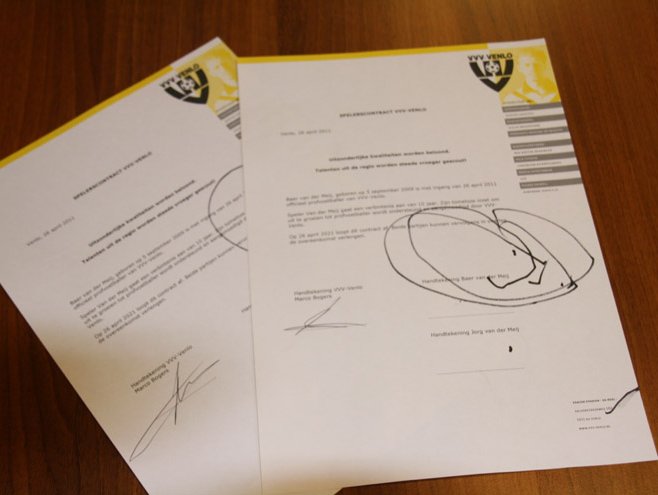 In the club's Press Room the signature of the contract was a done deal with a glass of orange juice. Marco Bogers is very proud of the fact that yet another young talent from the region the opportunity to develop at VVV-Venlo. Baerke's father is also very enthusiastic about the quick decision.
Last week his father Jorg posted for fun a video on YouTube with Baerke's football ambitions, where he kicked three consecutive balls in a toy box. The regional, national and even international media reacted to this, resulting in more exposure than could possibly be expected.
The movie of Venlo's footballing toddler Baerke has been viewed 900,000 times on various websites such as Youtube and Dumpert. U.S. network CNN and the American magazine Sports Illustrated put the movie on their website.
VVV-Venlo wish Baerke every success towards a great football career!
SOURCE: VVV Venlo official website
This child will definitely be the best player that ever lived.
Could Cristiano Ronaldo hit a free kick so accurately at the age of 1?
Did Lionel Messi possess such skill when still in nappies?
All we can do is thank our lucky stars we were able to see him first.