Eastlands boss ready to make offer for Goodison Park full back.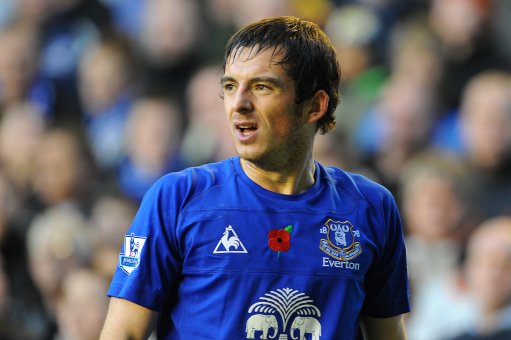 MANCHESTER City are ready to offer Everton £20million – and Wayne Bridge – for full-back Leighton Baines.
Arsenal, Liverpool and Bayern Munich have all been monitoring the 26-year-old defender, but City hope their huge bid blows the opposition out of the water.
City boss Roberto Mancini has decided that Baines , who is pushing Ashley Cole for a regular spot in the England side, can help take the Eastlands club on to a higher level.
Baines is a year into a five-year contract at Goodison Park, but City hope the chance of a bigger pay packet – plus Champions League football – will appeal.
City also know that Everton are due to make payments to their bank in the summer. That will leave them hard pressed to resist big offers for their stars, but boss David Moyes (left) doesn't want to lose any main members of his squad.
SOURCE: Express
This offer may well attract Everton boss David Moyes, but only if he feels that he has little hope of keeping England international Leighton Baines at Goodison Park. The former Wigan man has been a consistent performer at the club ever since his arrival back in 2007 and a number of sides are said to be interested in the left back.
Having suffered their traditional early season slump the Toffees have been in good form of late and fifth top eight finish in a row but the 26 year old may have higher ambitions and reported interest from the likes of Liverpool, Arsenal and Bayern Munich could herald Champions League football that the pint sized set piece specialist may be hoping to secure.
The past history between Man City and Everton may hamper their efforts as Moyes will not have forgotten the manner in which Joleon Lescott left the Merseyside club for Eastlands but a lot will depend on the financial state of the club that is looking for new owners amid fears that they may have to sell off big names to keep the club ticking over financially.
The inclusion of Wayne Bridge would at least help fill the left back spot but the cash on top is what could see a deal agreed.