More El Clasico related drama!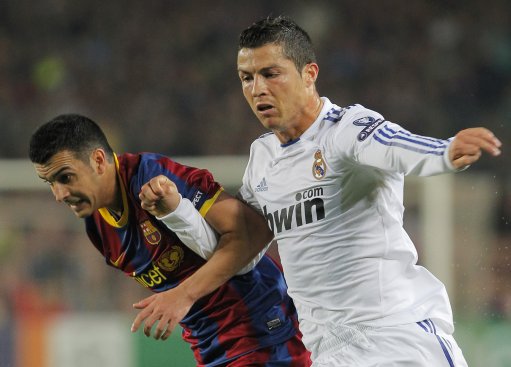 Real Madrid players vented their anger at the referees after their Champions League semi-final defeat by Barcelona.
After a fiery first leg, Real trailed 2-0 and with the score at 0-0 in Tuesday's return tie at the Nou Camp, Gonzalo Higuain had a goal disallowed.
Real winger Cristiano Ronaldo said: "Next year they might as well give the cup directly to Barcelona."
And Real goalkeeper Iker Casillas declared after the 3-1 aggregate loss: "We feel tricked by the officials."
Real players were already incensed following the first leg at the Bernabeu last week when red cards were shown to their Portuguese midfielder Pepe and coach Jose Mourinho, who was not in attendance at the Nou Camp.
And their sense of injustice grew after Higuain's second-half strike on Tuesday was controversially ruled out for a Ronaldo foul on Javier Mascherano.
"It has happened again – just like it always does," added Casillas.
And midfielder Xabi Alonso complained: "Many bad decisions were made against us and we are not happy about that.
"We think we did a good job but we feel decisions really went against us." (BBC Sport)
Do Real Madrid have a point? It seems there was less for the likes of Jose Mourinho and Cristiano Ronaldo to complain about from this leg but for some reason they still feel hard done by. There is probably one major contentious decision that they could have a gripe with and that relates to the disallowed goal from Gonzalo Higuain.
At first it seemed that referee Frank de Bleeckere had blown for offside but it seemed clear that no Higuain was in an onside position it then transpired that when Cristiano Ronaldo had lost possession he fell to the floor and collided with Javier Mascherano who somewhat theatrically fell over before the ball found it's way to the Argentine striker who neatly finished past Victor Valdes.
Whilst the over the top reaction from Mascherano was unneeded there did seem to be significant contact between the players. That said there seems little else the Bernabeu side could have an issue with from this leg, whereas clearly in the first leg they had a number of decisions go against them, not least a sending off of Pepe that was not even worthy of a yellow card.
Expect Jose Mourinho to have something to say on the matter in the coming days.