Emirates Stadium Captain has a difficult decision to make.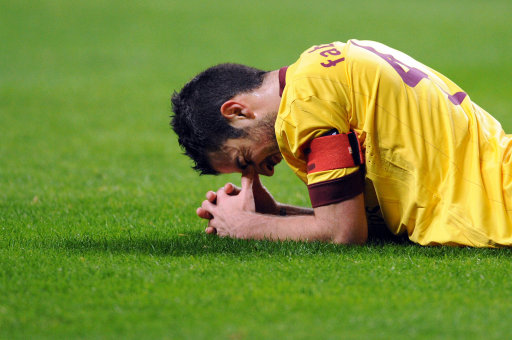 As Cesc Fabregas trudged off the pitch following another Arsenal collapse, the expression on his face spoke a thousand words. Of course he was disappointed and upset at losing, but there also seemed to be a sense of despair. After 7 years at Arsenal he only has an FA Cup Winners medal to show for it. He is one of the most talented midfielders in the world and has been courted for some time by Barcelona, his childhood team, yet in a world where Footballers change team quicker than you can say "Pini Zahavi" Fabregas has stayed loyal to the team and to the manager who has nurtured his talent.
I have a huge amount of respect for players who are loyal to one team, and let us not forget that when Fabregas joined Arsenal they were the finest team in the land, and "invincible". I am sure he expected to pick up many League winners medals and have a long successful career at a club playing the football he liked and with a Manager he looked up to. For various reasons, which I will not go into it has not panned out like that. It would certainly be a great shame if Fabregas was to leave the Premiership, in a year when some Premiership stars are fading and the Spanish league seems to be attracting many of the so called Galacticos, we don't want to lose our best assets.
The question is often raised of whether Fabregas would even get into the Barcelona team. I think he would. I actually put him on a par with Xavi and Andres Iniesta, but he is just playing in a weaker team and is a bit younger. He is the player that broke the deadlock in the World Cup and I think his time in the premiership will give his game a slightly more direct element. Also Barcelona play 60+ games a season so I am sure he will play 40+ games himself. From his point of view he is guaranteed Silverware, there is no doubt of that. He certainly would not be the fulcrum for Barcelona's play and would not enjoy the same prestige he is afforded at Arsenal, he may even miss the pace of the premiership, but he wouldn't have that sinking feeling of letting leads slip or just missing out on the league time and time again. If he does decide to go, it would be best to do it soon, I am not saying Barcelona will stop being the best team in the World suddenly, but right now they are flying and football is a funny old game and predictably cyclical, so 3 years down the line Real Madrid may be top dogs and Barcelona might have dipped a little and not be winning everything in sight. The last big incentive for him to join (Other than being a lifelong Barcelona Fan) is that he knows and plays with almost all the players already. There will be no issue of settling in or getting used to the way they play, he is guaranteed to be a success.
If Fabregas were to stay you would expect him to want some assurances. Arsenal are close to being the finished article but need to invest in the right areas and buy the right players. Can one player insist that they improve the defence, or buy a new Goal Keeper, probably not, but simply investing in the squad will not solve the deep lying problems that Arsenal have which brings me on to my next question. Is Fabregas part of the problem? He is Arsenal captain and thus leads the team, it is widely accepted the team lacks leadership; surely that is a massive part of his job. He is young for a captain at 23 but started the job aged 21 – is this too young to shoulder such responsibility? If we look at the other top team's captains: Vidic, Terry, Tevez, Carragher and then Fabregas I think I know who I would like to have with me in a fight metaphorical or real! With the exception of Tevez, who seems a strange choice and one that has not necessarily worked, the others are all real men; they are filled with passion, commitment and energy. When they shout it resounds around the stadium and fires up the players, can we really say Fabregas does the same? I am not blaming Fabregas; after all he was appointed Captain, taking over from Gallas who I thought was an odd choice by Wenger, proven by his half-way line sulk against Birmingham. As I write this article it seems that the finger of blame, if Fabregas were to leave would probably lie with Wenger. Wenger has created a world beater, but not surrounded him with the support he requires. At Barcelona he wouldn't have the burden of captaincy or the problem of playing with less talented players.
I have heard some Arsenal fans suggest selling him for 50 million and buying a few much needed reinforcements. I disagree, because that would just make the squad even more average. Arsenal need more world class players, so letting one, of only 5 or 6 in the team, leave makes no sense.
If he should leave for Barcelona next summer, no one would blame him and Arsenal would get a handsome pay out. But I think it is fair to say that this would mean a big transitional period for Arsenal and possibly an even bigger one for Monsieur Wenger.
www.thedrogsbollock.blogspot.com