Bernabeu boss punished for ill advised comments.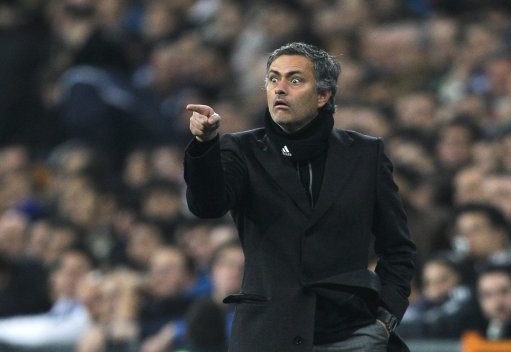 Jose Mourinho has been given a five-match European ban for his conduct after Real Madrid's Champions League semi-final first-leg against Barcelona.
Uefa said it was "inappropriate" for the Madrid coach to accuse them – and referees – of trying to help Barcelona win, following Real's 2-0 home defeat.
Mourinho served one match of the ban in the second leg, and another of the five games is suspended for three years.
Madrid have announced they will appeal against Mourinho's punishment.
"Real Madrid considers this resolution still suffers from the same defects found at the start of the disciplinary case, which made it impossible for our coach to use his right to defend himself," read a statement on the club's website.
They claim that the exact statements for which the disciplinary case was opened are "still unknown".
European football's governing body also banned Barcelona keeper Jose Pinto from the Champions League final, while Real's Pepe – who was sent off in the match – has been handed a one-match ban.
Former Chelsea manager Mourinho – who has also been fined 50,000 euros by Uefa's control and disciplinary panel – will miss Madrid's first three European games next season for his sending-off, and the outspoken comments that followed, after the club's first-leg loss. (BBC Sport)
This is not all together surprising as UEFA, as inept as they appear to be, are not likely to stand idly by as a manager accuses them of being in cahoots with Barcelona. I was actually expecting a longer ban and one wonders whether Jose Mourinho will be at Real Madrid next term to serve the suspension as many sources believe the Bernabeu side may opt to axe the 'Special One' this summer.
Even former president Ramon Calderon has stated that the Portuguese boss has harmed the club's reputation and clearly losing out to Barcelona in La Liga and the Champions League is not something the club's board will take lightly, not least because Mourinho spent a small fortune on the likes of …. only to see his side end up even further behind their Catalan rivals than before.
Manuel Pellegrini was sacked last summer even though he collected a record haul of 96 points in the La Liga season and finished just three points adrift of Barcelona. This term the gap is currently eight points and Barcelona can secure the title this weekend if results go their way.