Loftus Road side confirmed as Championship title winners.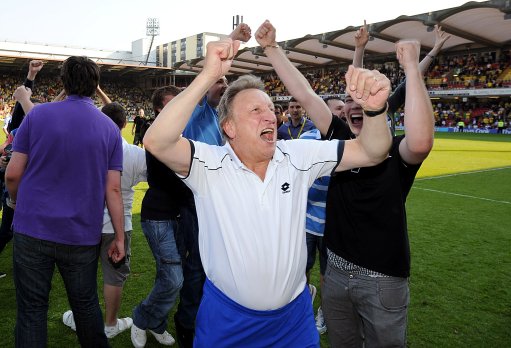 QPR will be promoted as Championship winners after they escaped a points deduction despite being found guilty of two of seven charges relating to the Alejandro Faurlin signing.
The club were accused of breaking third-party ownership rules over the Argentine's transfer in July 2009.
It had been feared that QPR could be docked points, which could have left them in the play-off places.
But the verdict means QPR will receive the Championship trophy on Saturday.
The men from Loftus Road host Leeds in their final game of the season.
Reacting to the verdict, QPR manager Neil Warnock told BBC Sport: "There have been a few tears in the dressing room. It's been a hell of a time and how they [the players] have been able to focus I'll never know.
"I can't praise them high enough. It hasn't sunk in completely. It's just a relief to know we are the champions.
"People have been speaking out who didn't know their facts. Our barrister said to me we have breached a couple of regulations but he didn't see a points deduction."
The decision not to dock the west Londoners points followed a hearing by an independent tribunal convened by the Football Association. (BBC Sport)
Swansea will not appeal the decision but as yet it is no known whether any other side will look to question the decision. QPR will not have any points deducted next season either so one would imagine that the FA will instead punish the West London club financially with a whopping big fine for the issues relating to the signing of Argentine Alejandro Faurlin back in 2009.