Emirates boss wants Bernabeu hit-man to win him the Premier League.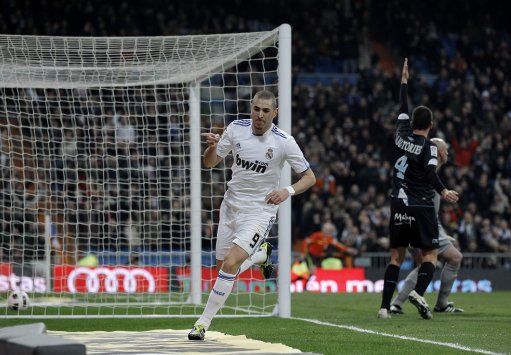 Arsenal manager Arsene Wenger is in negotiations with Real Madrid to bring striker Karim Benzema to the Emirates for a deal totalling £40million this summer.
Marca reports the Gunners' boss wants the 23-year-old to spearhead a new challenge to win the Premier League for the first time in seven years.
Wenger has been known to frown upon spending huge money on a player but has been given direct permission from new owner Stan Kroenke to spend if necessary.
The Frenchman could also have additional funds available if they sell captain Cesc Fabregas to Barcelona at the end of the season.
Wenger is prepared to bid around £20million for the player plus give Los Blancos two from Andrey Arshavin, Nicklas Bendtner and Gael Clichy.
This will push the deal up to the £40million that Madrid manager Jose Mourinho would be willing to listen too.
Benzema is enjoying his most successful season at the Bernabeu to date since his £35million move from Lyon in 2009, scoring 23 goals in 45 matches.
But the France international is not happy about being overlooked for the Copa del Rey final and Champions League semi-final against Barcelona.
With Gonzalo Higuain fully recovered from injury and seemingly ahead in the pecking order, Benzema's discontent is becoming more apparent.