Ewood Park hero confesses to ambitious plans to join the Emirates club.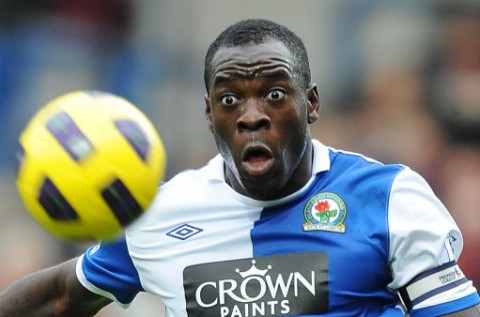 Blavkburn Rovers defender Christopher Samba has revealed he was very close to joining rivals Arsenal in January and hopes the move is still on the table.
The 27-year-old handed in a transfer request to the Rovers' board last December after Sam Allardyce was surprisingly sacked and replaced by Steve Kean.
The Republic of Congo international was convinced to stay and signed a contract extension until 2015 in February.
Samba now says he is happy at the club but his ambitious character means he will keep his options open as he goes in search of success.
"Everybody knows that I am an ambitious player," he said. "I am at an age now where I want to try to do something.
"You only have one career and it would be a shame to not make the best of it.
"I am happy at Blackburn but I will study any opportunities that come my way this year.
"I'm not trying to move away but of course I would look if it is the right thing for me.
"I think a move to Arsenal was very close in January but that is life. You have to continue. If it happens, it happens, but it wasn't meant to be and football is like that.
"I committed myself to Blackburn and will always do my best."