Mexico boss says Old Trafford star is the equal of Stamford Bridge record signing.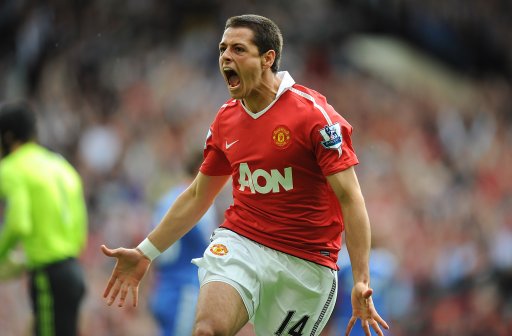 Mexico head-coach Javier Aguirre insists Manchester United striker Javier Hernandez is as good as Chelsea's record £50million signing Fernando Torres.
'Chicarito' has been a revelation since joining from Guadalajara last summer for £6million, scoring 20 goals in his maiden Premier League season.
This is in direct contrast to Torres' fortunes who has scorted only one goal since switching the red of Liverpool for the blue of Chelsea in January.
But Aguirre, who managed the Spaniard while in charge of Atletico Madrid, believes the two share many similarities and says Hernandez would never leave Old Trafford.
"I actually think there are a lot of similarities between Javier and Fernando as players and people," Aguirre told The Times. "They are both very polite and very hard-working.
"They can be the reference for their teams and they can make the difference in the biggest games.
"I do not have favourites because players are like your children and you can't choose one over the other, but the only difference between Fernando and Javier right now is that Fernando has more experience. In everything else, they are equals."
"I have known Javier since he was one. I was in the same Mexico team as his father, also Javier, for four years and our families were very close.
"I worked in Spain for many years, so this meant our families did not see each other as much after I left Mexico but, when I became coach of the national team, I called Chicharito up and the story began again. We recovered our relationship.
"I first saw him play when he was 15 and he was one of two players from Guadalajara who everyone was talking about.
"You could tell straightaway that he was a special talent because he was always looking for the goal.
"I have to admit when I heard he was signing for Manchester United, I feared it could be too soon because they are such a big club and he was still very young," he added.
"But he is so keen to learn and works hard all the time in training, and this has helped him to be a success straightaway.
"Recently we went to Manchester to have dinner with Javier and his family, and he is very happy there.
"He loves Sir Alex Ferguson as a manager and as a person and he loves the club, the country and the Premier League.
"He told me about when he joined the club and Sir Alex took care of his family personally. That meant a lot to him and it is things like this that mean Javier does not want to join any other club."