Old Trafford boss sure his side "won't muck it up".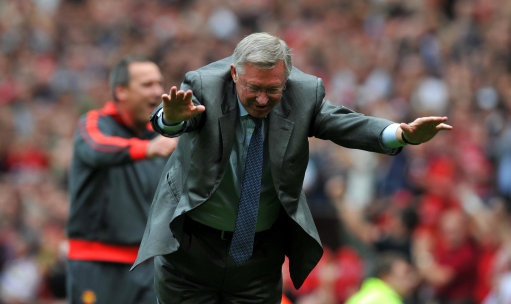 Manchester United boss Sir Alex Ferguson says he is certain his team will win the Premier League title next Saturday after beating rivals Chelsea.
Goals by Javier Hernandez and Nemanja Vidic earned United a 2-1 win which means they need a only point at Blackburn to seal a record 19th title.
"Knowing the players they won't muck it up," said Ferguson. "They will get a point there's no doubt about that.
"It's fantastic to be the most successful team in the country."
If as expected United seal the title it will be their 12th league success since Ferguson joined from Aberdeen in 1986 but he remains in no doubt as to the importance of his first title triumph in 1992.
"The minute we won that first title in 1992 the door opened, and we've been involved in the first two all throughout that period – it's a fantastic achievement," he added.
"For the last 17 or 18 years it's been Arsenal and Chelsea as our nearest challengers, and the last few years it's been Chelsea. Arsenal made a great attempt this year but them losing [at Stoke] has finalised it.
"It took time to get the foundations of the club right and after we got the first title we improved, improved and improved." (BBC Sport)
You can hardly argue with Sir Alex can you. Man United were in inspired form against Chelsea yesterday and should in all honesty have beaten their main title rivals by a more decisive scoreline and it does seem highly likely the side will secure the title at Ewood Park next week. It would clearly be in Ferguson's best interests to grab the all important point, or three, at Blackburn Rovers so that he could rest his players ahead of the Champions League Final.
It's a great achievement for the Old Trafford side to notch up yet another domestic title and clearly the fact that this one overhauls rivals Liverpool makes the success all the more sweeter. Whilst there were portions of the season where Man United looked like they may be caught Ferguson's side knew how to win matches when they were below par.
The fact that Man United could take to the field against Chelsea without the Premier League's top scorer, Dimitar Berbatov, and the top assist maker, Nani, and still win at a canter say's it all.