Emirates star wants reassurances from boss over future before deciding whether to leave.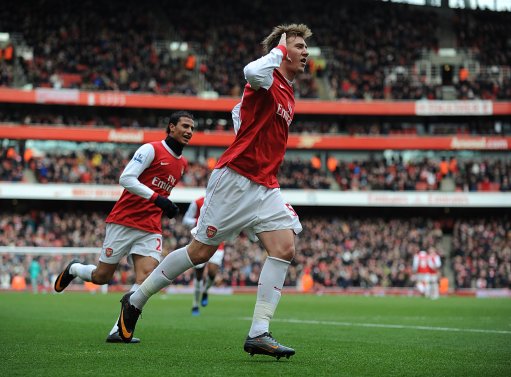 Arsenal striker Nicklas Bendtner is demanding a meeting with manager Arsene Wenger to discuss his future in North London.
The 23-year-old has started only three Premier League games all season and has grown increasingly frustrated at his lack of first-team opportunities.
He is unhappy about being constantly used as an impact player from the substitutes' bench and wants to be more than a squad player.
Bendtner is also unhappy about being played out of position on the right flank and is now demanding to know his manager's thoughts at the end of the season.
The Danish international's situation is being monitored closely by Bayern Munich, Tottenham Hotspur and Newcastle United, but he dreams of moving to Barcelona.
"I need to have a talk with him [Wenger] because I'm not satisfied with playing on the right wing, which I've done more or less all season long," Bendtner told TV2.
"I'm concentrating on getting our Champions League place and then we'll do the evaluation at the end of the season.
"It's certainly not the best thing for me but it's not up to me and sometimes you have to adapt to what the manager says."
"If it's a free choice (where I would like to go), I choose Barcelona," he added.
"I've never had any idols in the football world but if I had a dream player to play with then it would be Xavi and [Andres] Iniesta."