Les Bleus boss not involved in any wrongdoing.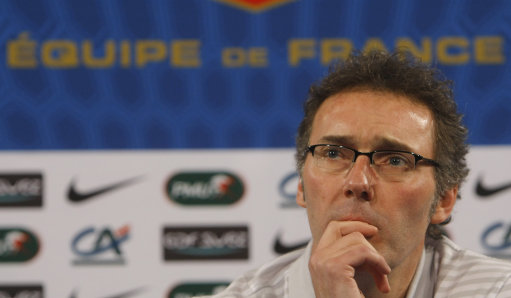 France head coach Laurent Blanc has been cleared of any wrongdoing by an investigation into the racism row that rocked the country.
The French Sport's Ministry looked into a meeting of the French Football Federation (FFF) held last November where limiting the number of black and Arab players in youth teams were discussed.
Sports Minister Chantal Jouanno said Blanc was free of all charges and played no part in the matter.
Jouanno added there was not enough evidence launch a legal case but reiterated any such scheme was against the law in France.
"There is nothing leading to say that Laurent Blanc is backing discriminatory practices," Jouanno told a news conference.
"Laurent Blanc was attending this kind of meeting for the very first time. He did not have any project (to limit the number of Black and Arab players), no fixed opinion."
"There is no element, no accumulation of evidence that leads us to believe there was discrimination," she added.
"There are not enough grounds to refer it to the prosecutor's office."
FFF technical director Francois Blaquart, who used the word 'quotas' in the November meeting, has been suspended pending the inquiry and a separate federation probe is also looking into the issue.
The FFF will present its investigation's findings at a news conference later on Tuesday with Blanc still not totally in the clear.
The coach has been slammed by former team mates from the multicultural 1998 World Cup-winning France side, such as Lillian Thuram and Marcel Desailly.
But others such as then captain Didier Deschamps and influential French great Zinedine Zidane have backed Blanc to stay on.