Anfield legend believes team-mate will replicate Eastlands captain and push team into Champions League.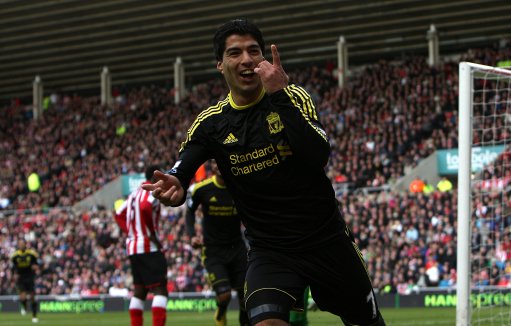 Liverpool captain Steven Gerrard has claimed team-mate Luis Suarez is better than Manchester City striker Carlos Tevez.
The Anfield legend also tipped the Uruguay international to replicate what Tevez has done this season and fire Liverpool back into the Champions League.
Suarez joined Liverpool in January from Ajax for £23million and has made an immediate impression.
He has brought glory back to the Kop with the Reds now on the verge of qualifying for the Europa League.
Gerrard, who is currently sidelined with a groin injury, says playing with the 24-year-old is a 'midfielder's dream' and is excited about the possibility of Suarez's potential.
"He is a midfielder's dream," Gerrard told Sky Sports. "As soon as you look up he makes great movements and he gives you options all the time.
"But what is impressing me even more is when he hasn't got the ball, his tenacity and desire to win it back.
"It is natural you will compare him to Tevez because of his build, his shape, the way he plays but for me and what I've seen so far, I'm slightly biased because he is in my team, I think he can go on to be better.
"Suarez's movement, his touch, his vision, the way he took his goal is sensational. He is a joy to play with."