Old Trafford striker at the peak of his powers.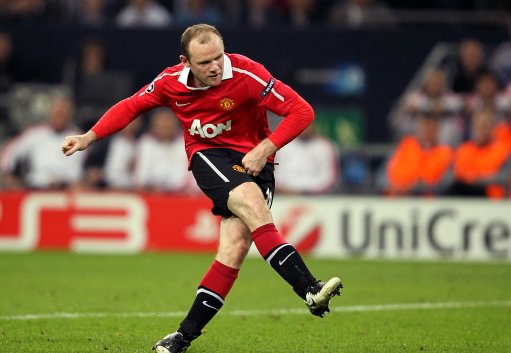 Manchester United's remarkable run to an almost guaranteed 19th league title and a third Champions league final in four years has seen as many individuals garner praise as goals scored by the league leaders.
Sir Alex Ferguson for his success in the transfer market, for his ability to manage a myriad of injuries, for the incredible managerial instinct that allowed him to put together another superb side after a squad that was dismissed as "average by United's standards and their worst team for years".
Nemanja Vidic for his ability to be the rock at the heart of United's constantly changing defence, for being the squad's most reliable performer, for stepping into the leadership breach left by Gary Neville's retirement.
Ji-Sung Park for his irresistible engine, for coming into the side to perform a very specific role and for being the club's unsung hero.
There are others, too. Ryan Giggs continues to defy both age and critics with his consistently world-class performances. Javier Hernandez, for his clinical finishing. Nani, for his vast improvement.
Yet there's one other man who, of late, has taken responsibility of driving United's season onto a greater level of success. A man who has deservedly attracted negative attention all season and who at one stage looked destined for the Old Trafford exit.
It's absolutely no coincidence that United's evolution from an efficient, experienced side into deserved champions of England and possibly Europe has corresponded with the incredible upturn in Wayne Rooney's form and fortune.
Having spent the majority of the season licking his wounds, wallowing in self-pity and seemingly playing with the weight of the world on his shoulders, England's best finally staged an impressive personal turn-around near the anniversary of the ankle injury that halted last year's heroics and saw Rooney's season limp to a lame finish.
There's also no doubt that the continuing emergence of Hernandez as the Premier League's greatest goal poacher has given Rooney the freedom he has lacked for so long. Too long, in fact.
2009-2010 may well have been Rooney's most prolific – 35 goals were scored, goal scorer's goals, too – but it still wasn't vintage Rooney. He was still restricted by the role he had to play and it's to his eternal credit that he'd unquestionably continue to selflessly sacrifice himself for the good of the team.
Rooney was, and always will be, at his best when given the freedom of the final third to be his roaming, instinctive and destructive self.
The Rooney that so skillfully juggled the ball and terrorised opposing defences for England during Euro 2004. The Rooney that scored on his Everton debut with a daring, curling effort into David Seaman's top corner against the then-unbeaten Arsenal. The Rooney that scored that intimidatingly natural hat trick on his Champions League and Manchester United debut and who has scored several outstanding goals since, including a goal of the season volley against Newcastle United back in 2005.
That is a peak Wayne Rooney. One that isn't sacrificing himself to allow the self-indulging Cristiano Ronaldo to play for himself, or occupying the lone striker role due to the incompetence of a lethargic Dimitar Berbatov or an unfortunately injured Michael Owen.
Rooney has always looked at his best in a 'second-striker' role, one that gives him the freedom he deserves. He blossomed at Everton when Duncan Ferguson led the line, won the headers, worked the channels and occupied the opposing defence. When Louis Saha occupied that same role at United, Rooney again thrived; 23 goals in the 2006-2007 season testify that when compared to 18 the following season with Carlos Tevez as his partner.
That's not to say he hasn't looked good in any other role – his natural talent and passion will always dictate that he can perform throughout the course of the season. In fact, those instances where Rooney has still looked good in an unfavoured role actually underline his class. Would Kaka have looked nearly as good at AC Milan without Ambrosini and Gattuso toiling away to give him a platform to play on? The answer is a blunt 'no'. Rooney, on the other hand, has never just made up the numbers.
In partnering Hernandez for United, Rooney again appears to have found a personal nirvana. The young Mexican is content to occupy the penalty box, make the right runs and scrap for any sniff of a goal-scoring chance that may come his way. Comparisons to a young Owen are neither premature or an embellishment.
Back is Rooney's playground instinct. The instinct that sees him play without a fear of failure, that makes him dare to try the spectacular. That sensational, capricious bicycle kick against Man City is him at his best – a scorer of great goals; not necessarily a great goal scorer. If he sees a ball bounce thirty-five yards from goal, he no longer hesitates to try his luck. If he thinks he's capable of scoring a free-kick, he'll take it.
Fans are again witnessing the enthusiasm that makes Rooney such a popular, positive character around the training ground. The precocious teenager in him that would rather perform kick-ups than stretch and who impresses even the most decorated of footballers with his skill.
When Cristiano Ronaldo left for Real Madrid, Sir Alex Ferguson backed Rooney to fill the void left by the Portuguese star. He also once said: "I think we have got the best young player this country has seen for the past 30 years". He was right.
It's finally time to overlook Rooney's off-field pursuits, his early season tantrum and his enormous wage packet. United and England's best player is back with a vengeance.
Follow Declan Warrington on Twitter @decwarrington