Zurich chief claims ex-Wembley chairman is trying to revive career.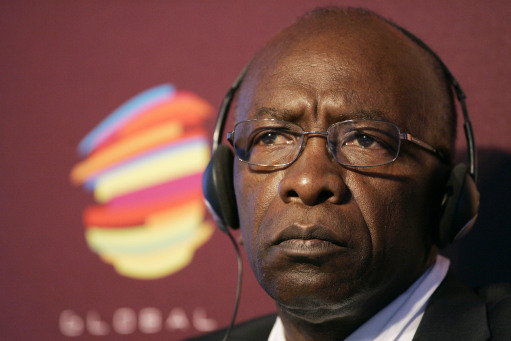 Fifa vice-president Jack Warner has hit back at accusations from former Football Association chairman Lord Triesman he asked for money in return for his World Cup vote.
Triesman, who was also chairman of the failed England 2018 bid, made the claims to the culture, media and sport committee in the House of Commons.
The allegations date back to England's campaign to host the 2018 World Cup finals which eventually went the way of Russia.
He told the select committee looking into football that the Concacaf president Warner asked for money – suggested to be £2.5m – to build an education centre in Trinidad with the cash to be channelled through him.
Later Warner asked for £500,000 to buy Haiti's World Cup TV rights for the earthquake-hit nation, also to go through him.
Triesman also named Paraguay's member Nicolas Leoz, Ricardo Terra Teixeira of Brazil and Thai delegate Worawi Makudi.
But Warner hit back at Triesman by saying he is using the situation to save his career.
"I have no intention of dignifying that piece of nonsense of Triesman who no doubt feels that he can revive his dying political career by mentioning that piece of foolishness," Warner told Sky Sports News.
"I have never asked Triesman nor any other person, Englishman or otherwise, for any money for my vote at any time.
"In the English World Cup campaign, before he was unceremoniously kicked out, I have spoken to Triesman, on his initiative, only on three occasions, while I have spoken to his other colleagues on other occasions and not one of his colleagues will ever corroborate his bit of trivia.
"I have been in the Fifa for 29 years and this will astound many I am sure including persons like David Dein and Geoff Thompson.
"This is the last I intend to say on this matter."
Earlier Tory MP Damian Collins accused Fifa delegates Issa Hayatou and Jacques Anouma of being paid $1.5million to vote for Qatar by a middle man.
But the public relations consultant for the Qatar 2022 bid is adamant he saw no truth in these suggestions.
"I was working at the highest level of that bid and talking at length with the chairman and CEO and saw no evidence of any of these allegations.
"My experience is I would have had a sense if such things were going on and I had no sense of that."