Time to make a stand.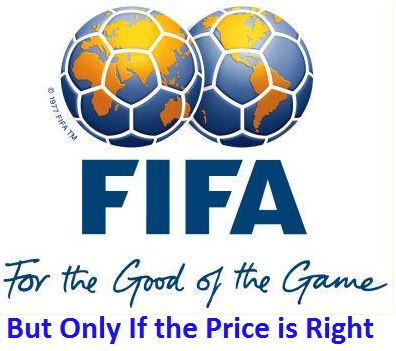 Sports Minister Hugh Robertson has suggested England could break away from Fifa if it does not address allegations of corruption within the organisation.
Former Football Association chairman Lord Triesman claimed four Fifa members sought "bribes" in return for backing England's failed 2018 World Cup bid.
"There is a desire to try and work and change Fifa from the inside," Robertson told BBC Radio 4's Today programme.
"If Fifa proves unable to do that, then I would say all options are possible." (BBC Sport)
It does seem that the only way to ensure that FIFA actually get their house in order is to threaten a breakaway as it does seem that any investigation they conduct fails to achieve anything. The allegations from the Sunday Times coupled with the claims made by Lord Triesman adds yet more fuel to the claims that as an organization FIFA appears to suffer from institutionalized corruption.
In the space of just one day eight of the 24 FIFA committee members who voted to decide the hosts of the 2018 and 2022 World Cup's were accused of taking back handers or asking for them. That's one third of the entire voting panel.
Both heads of the England and Australia bids have stated that they would not call for a re-vote, but why not? If it can be proven that the process was tainted by bribery and wrongdoing, then surely the results could not be allowed to stand, because if that is the case then what is the point in an investigation?
It would be like me stealing your wallet and then you arresting me but allowing me to keep the money, bizarre.