Eastlands boss would welcome reunion with giant Swede.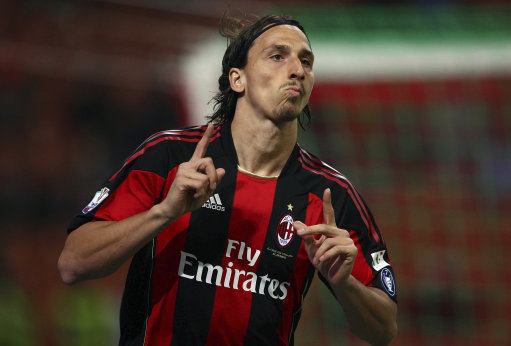 Manchester City manager Roberto Mancini could attempt to sign Zlatan Ibrahimovic this summer as he builds a squad for the UEFA Champions League.
Having secured fourth place in the Premier League after a 1-0 win over Tottenham on Tuesday night, City are planning for next season.
And with uncertainty surrounding the future of Carlos Tevez, and Mario Balotelli and Edin Dzeko failing to meet expectations, a striker could be a target.
Ibrahimovic is currently on loan at Serie A champions AC Milan from Barcelona and the Swede has said he wants to stay at the San Siro, but a City bid of around £20million could change the situation.
Mancini, who won the Italian title with the 29-year-old at Inter Milan, said in The Sun: "If Zlatan wants to come to City, I would immediately find him a place."
Source: Sky Sports
Mancini then went on to confirm he has no interest in selling any of his first choice striking trio of Carlos Tevez, Mario Balotelli and Edin Dzeko. Which begs the question, where would all these strikers fit in? Clearly qualification to the Champions League will add more games to the season and therefore having a good compliment of strikers is very useful, but would any of these four stars be happy if left on the bench?
Zlatan Ibrahimovic has had a great season at the San Siro and it seems therefore likely that AC Milan boss Massimiliano Allegri would want to make his loan move a permanent one this summer. The giant Swede has netted 19 goals in all competitions and has helped the Rossoneri to their first domestic title in seven years.
There is still some concern that Tevez will push for a move away from Eastlands but surely the completion of qualification for the Champions League would allay those fears. Mario Balotelli is, as Mancini puts it, an 'ongoing bet' with great potential and has time on his side. Edin Dzeko has struggled somewhat since his move from Wolfsburg but will clearly want to stick around.
Maybe Roberto Mancini will elect to adopt a completely different tactical formation to this term by swapping his one up front strategy for a four pronged attack next term? Unlikely.