Bavarian side set to clinch keeper signing.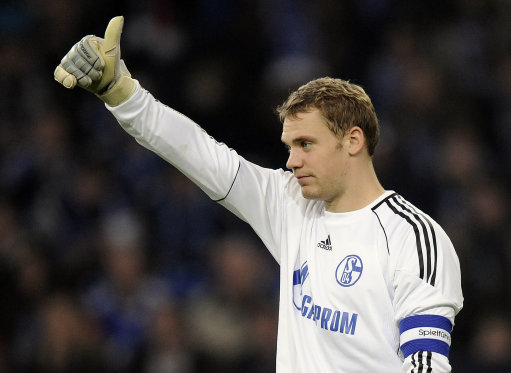 Bayern Munich have increased their offer for Schalke's Manuel Neuer to €21 million, according to Bild.
The reported deal would include €18m upfront with a further €3m to be paid in the future. If the Gelsenkirchen outfit and Neuer agreed to the deal, the club could earn a further €7m from performance-related bonuses.
The latest offer comes after Bild reported on April 27 that Bayern had an offer totalling €18m rejected by Schalke.
It is not yet known whether the latest offer will be accepted by the Champions League semi-finalist's board but the club's sporting director Horst Heldt found Bayern's previous offer unacceptable.
"The offer from Bayern was not worth mentioning, not acceptable. It is seriously worth considering keeping the world's best goalkeeper for another year," the sporting director told German media last month.
However after Tuesday's negotiations, Heldt seemed to indicate that a deal may be close, telling Bild: "Yes, we [Schalke and Bayern] had a decent conversation."
Neuer is likely to play his final Bundesliga game in the blue of Schalke at the weekend when his side travel to Koln.
SOURCE: Goal.com
It seems that despite the fact that Bayern Munich supporters do not want the Schalke keeper to become their number one custodian, banners unfurled at a recent match making that abundantly clear, a move to the Allianz Arena appears increasingly likely.
The talented German international has of course also been linked with a move to Old Trafford, especially after a heroic performance in the first leg of Schalke's first leg against Man United, and the 25 year old seems destined to end his association with the club he has been a regular for since 2006.
The fee seems a fairly large one but Bayern Munich are keen to bring in a reliable keeper and incoming boss Jupp Heynckes has made it clear he wants Neuer above all others.