Time for change.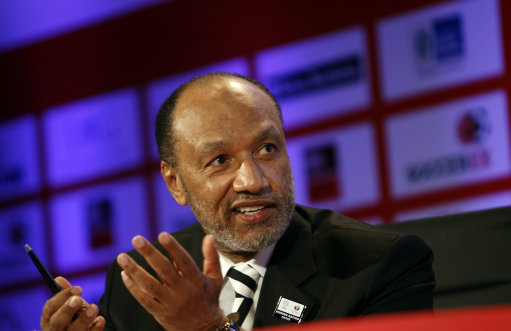 Fifa presidential candidate Mohamed Bin Hammam says world football's governing body needs a "new atmosphere" to dispel negative publicity.
The 62-year-old takes on current chief Sepp Blatter in an election on 1 June.
"I will happily and unreservedly restate that I firmly believe Fifa, as a decision-making body and as an organisation, is not corrupt," he said.
"However it is impossible to deny that its reputation has been sullied beyond compare. It's time for that to change."
Bin Hamman said that under the leadership of Blatter Fifa had been "choosing to run football how it sees fit, rather than doing so in a manner that is consistent with the governing body's proper procedures, which made it hard to get the public to believe in the organisation.
"A new atmosphere needs to descend upon Fifa; there needs to be an opportunity for new ideas to take hold and for the organisation to take a new direction." (BBC Sport)
Good luck to him. Whilst some may wonder if Mohamed is any cleaner than Sepp, it seems inconceivable that anyone could do a worse, less immoral job that the current FIFA president.
However Mr. Bin Hammam has little chance of success as the way the 208 votes are cast, in a series of block votes by continental region, there really is more chance of me successfully persuading Natalie Portman to come with me to Nandos than a new president being installed by the football's world governing body.
208 votes will be cast in the election, with the winner needing 138 to succeed. Blatter already has a guaranteed 21 votes from South America and Oceania and is expected to receive 35 from Concacaf and 53 from Europe meaning that any challenge to the 75 year old incumbent fairly pointless.