Recent run of good form not enough to justify talk of Anfield title contention.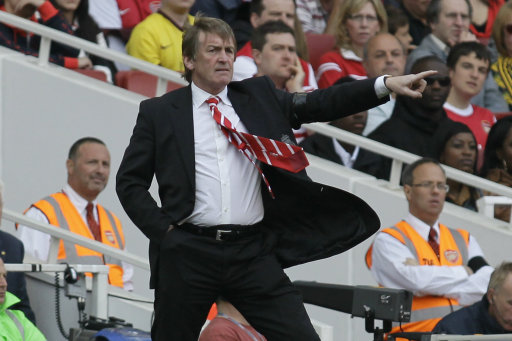 The King is back…Long live the King! Liverpool fans everywhere finally got the news they'd been craving since Rafa Benitez's departure when Kop legend Kenny Dalglish was finally appointed as manager on a three-year deal.
In what have been turbulent times for Liverpool – a club that once prided itself on stability and grace – owners, managers and players have come and gone.
The world-class duo of Fernando Torres and Javier Mascherano have left, the disastrous 44 month tenure of American cowboys Tom Hicks and George Gillett has come to an end, and Roy Hodgson received his P45 before the ink had dried on his own three-year contract.
In fact, the only real consistency around Anfield during this period has been the clamour for the appointment of Dalglish as manager. Despite being dismissed as yesterday's man and a school of thought that football had moved on too much since the Scot last succeeded as a manager, 'King Kenny' has, thus far, proved a major success.
It'd be a significant injustice to the job Dalglish has done to disregard his permanent appointment as a favoured, romantic notion. The Scot has been the central catalyst in uniting a club that was previously owned by two Machiavellian figures and had, in Benitez, a political animal as manager.
But while his status as a Liverpool legend has unquestionably helped, it is Dalglish's modus operandi that has been the real reason for his success. The identity of Liverpool football club has been rediscovered; local youngsters Martin Kelly, Jay Spearing, Jack Robinson and John Flanagan all feature regularly. They blossom. Older players – like Maxi Rodriguez – rediscover past glories, and the team performs with real hunger.
Ten wins, three draws and only three defeats since taking charge indicate this as surely as the previous 18 months underlined a club in a dystopian state.
Based on that evidence, it's almost inevitable that Liverpool fans will begin to dream of that all-elusive Premier League title and a return to the glory days. That title may well be somewhere in the not-too-distant future, but it's unlikely to come as soon as next year.
Liverpool may again be a club in the ascendancy, but they've been there before under the astute management of Benitez and discovered that that final step – to league champions – is the hardest one to take.
In reality, their current form and rise to fifth in the league serve to paper over the cracks that are still in existence.
Despite deserving recognition for his 666th club appearance, Jamie Carragher is not nearly on a par with the player that so uncompromisingly marshalled Liverpool's defence during the Benitez era. Steven Gerrard is already over a year into a steady decline, Pepe Reina's future is still shrouded in speculation and Joe Cole looks like a man who has had any invention and artistry ruthlessly removed from his once-talented feet. His confidence and profile resemble that of a man walking the green mile and who knows, beyond any shadow of a doubt, that his best days are firmly behind him.
There are, of course, positives. Luis Suarez has been one of the best signings anywhere in world football and may have even more in his locker. Their youngsters will only get better, the commitment of the squad – Reina aside – is not in doubt, and even though the jury is still out on Andy Carroll, he can hardly have made a better start.
But to assume their revival is enough would, to put it simply, be idiotic and nonsensical. It would mean completely overlooking the merits of their rivals. As Arsenal's Arsene Wenger recently said: "Everyone thinks they've got the prettiest wife at home"; Liverpool's improvement may have been encouraging and infectious amongst the club's fans, but there's no question that the Premier League's top four will all improve next season.
That's not to say the Reds shouldn't target a return to Champions League football. A club can realistically target finishing in the top four; they're just highly unlikely to make the top two.
Of their rivals, Arsenal still have a young side who look set for investment in the summer and need tweaking as opposed to the overhauling Liverpool require.
Manchester United are also on the cusp of investment and – major or not – the form of Hernandez, Smalling, Nani and the re-emergence of Anderson means further improvement can be expected.
Chelsea are also set for their biggest foray into the transfer market since 2006 when Andriy Shevchenko and Michael Ballack signed up. Ramires and David Luiz will benefit from their experiences this season and return stronger, while Torres is likely to prove why he is still one of the world's best finishers and be amongst the league's top-scorers. They've run Man United closer than anyone in the league and will be stronger next year.
To top that, Manchester City's inclusion in the Champions League may finally see them attract the elite talent that has, until now, evaded them. Not only is their squad already stronger than Liverpool's, but being able to realistically compete for the likes of Kaka, Schweinstiger and Ibrahimovic – for argument's sake – will see them hope to further improve and put in a sustained title challenge.
While it's possible to argue that the instability seen at Man City and Chelsea could be their undoing – the wealth they both possess is one of English football's greatest paradoxes – the case remains that being in the top four is one thing and winning the league another.
A season of competing and rebuilding the core of their side would be a successful one. The biggest trophies are out of their reach for now, but the signs are certainly positive. With Gerrard having his best rest in years, and a structure for success being re-established, Liverpool can look forward to gradually moving in the right direction again.
Premier League champions in 2012? Anfield wasn't built in a day.
Follow Declan Warrington on Twitter @decwarrington.