Old Trafford marksman wanted by plethora of European giants.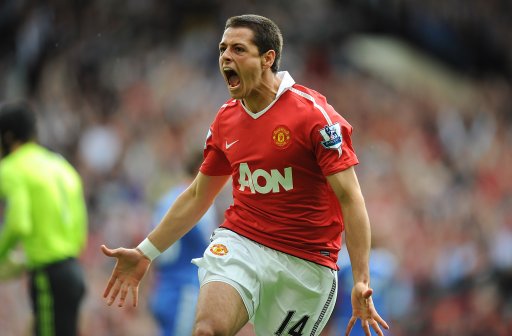 Manchester United are aware of the growing interest in Javier Hernandez from the continent.
The Daily Star says Hernandez will be offered a bumper new contract that will treble his wages to fend off a host of top clubs circling the Mexican hitman.
His efforts have made a number of European clubs sit up and take notice, with Real Madrid, AC Milan and Valencia keeping tabs on his progress.
Real are weighing up a £20m summer bid to lure him to the Bernabeu.
SOURCE: Tribalfootball
Real Madrid boss Jose Mourinho is keen to beef up his attacking options this summer after seeing the Bernabeu struggle to deal with the loss of Gonzalo Higuain at some points during this season, but hopes of landing Man United youngster Javier Hernandez are surely slim to none.
The Mexican international has become an instant hit with the supporters at Old Trafford and the club's new baby faced assassin appears to be firmly in love with the club. When Sir Alex Ferguson purchased the then little known forward back in April last term, he would surely have seen the lethal finisher as a player who would make a cameo appearance here and there during his debut season, he would never have dreamed of Chicharito netting 20 goals in his first full season at the club.
His form has left the Premier League's top scorer Dimitar Berbatov warming the bench and Hernandez has formed a terrific pairing with Wayne Rooney, a partnership that Ferguson will look to continue to use in the seasons to come and any offer from Real Madrid will be given short shrift.
Of course Real Madrid are known for picking up Man United stars, having in recent years nabbed David Beckham, Ruud Van Nistelerooy and Cristiano Ronaldo but the Scot will be hanging on to Hernandez as tight as he can knowing that the Guadalajara born striker is a player with frightening potential.