Mindless thug appears in court.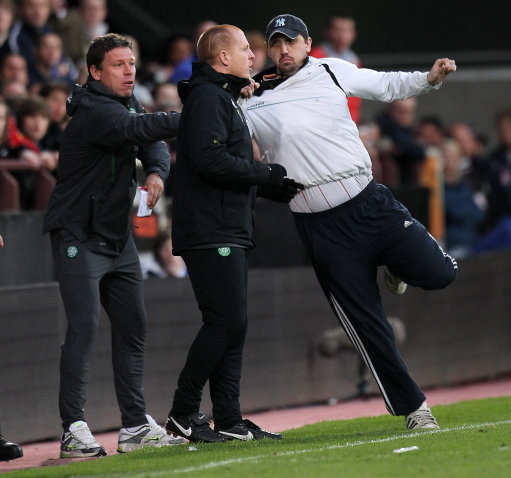 A man has appeared in court on Thursday charged with assault aggravated by religious prejudice after a touchline attack on Celtic manager Neil Lennon.
Officers arrested the fan who clambered from the Hearts section of the main stand on to the pitch at Tynecastle in Edinburgh and charged towards Lennon.
The manager, who has had to live with round-the-clock security after death threats in the past, was said to be "shaken" after the incident.
Wednesday night's incident happened after Celtic's Gary Hooper scored The Bhoys' second goal in a 3-0 success.
John Wilson, 26, from Edinburgh, was charged with breach of the peace aggravated by religious prejudice and assault aggravated by religious prejudice.
He appeared at a private hearing at Edinburgh Sheriff Court on Thursday afternoon. No plea or declaration was made during the hearing and he was remanded in custody. (Sky Sports)
One does wonder just how a football 'fan', and I use the term very loosely, could so easily make his way along the touchline and punch Neil Lennon in the face? We are talking about a manager who has a panic button installed in his house, such is the severity of the aggression aimed at him. Yet John Wilson managed to saunter up to the Celtic boss and attack him.
There needs to be a stepping up of security at football grounds, and not just those who play host to Celtic Football Club. Clearly we are not talking about fences or mass policing, but surely there should be a copper or two stationed by the dug-outs, no?