Head of FIFA makes typically sensible statement.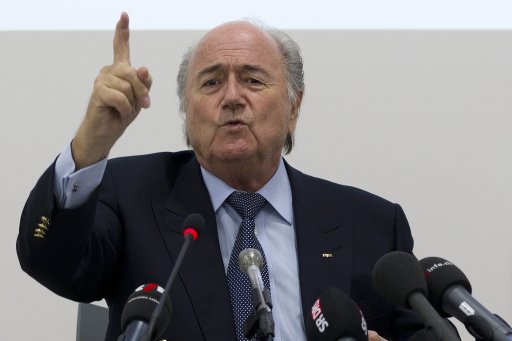 Current president Sepp Blatter says Fifa will be plunged into "a black hole" if rival Mohamed Bin Hammam wins next month's leadership election.
Swiss Blatter is bidding for a fourth term at the helm, with Qatar football chief Bin Hammam standing in his way.
And with the days ticking down to the 1 June vote, Blatter said: "The ballot could lead to a seismic shift with irreversible damage.
"Quite simply, the survival of Fifa is at stake."
He added: "It is a question of whether the game's established world governing body will continue to exist after this date or whether it will disappear into a black hole.
"'Is it that dramatic?' you may ask. The answer is, theoretically, yes, it is." (BBC Sport)
Oh sweet Jesus. Sepp Blatter is hardly subtle is he. Not content with helping to demean FIFA with his inability to run football's world governing in a manner that doesn't involve mass corruption, bribery and incompetence, the Swiss crazy man now predicts that football as we know it will be plunged into a black hole if he is not re-elected as President of FIFA.
You know what, that sounds like a challenge. If I were a voting member of FIFA I would like to see just how the beautiful game can be consumed by a black hole. That might be fun to watch, would at the very least be exciting. And surely that would also mean that Mr. Blatter will also be plunged into the darkness, no?
His description of a "seismic shift" and "irreversible damage" makes me wonder if perhaps Sepp was watching 2012 last night. I have to say I didn't think it would be possible for the 75 year old horizontally challenged imp to appear any crazier than he already did, but he has topped himself.