Nou Camp midfielder accused of racially abusing Real Madrid full back Marcelo.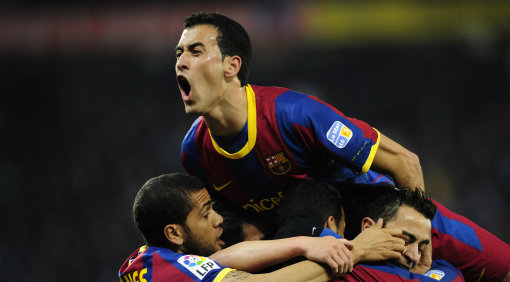 Uefa has launched a disciplinary case against Barcelona's Sergio Busquets over alleged racism in the Champions League semi-final with Real Madrid.
Real posted a video on their website before the second leg showing Busquets allegedly calling full-back Marcelo "mono" (monkey) in the first leg.
The case will be heard on Sunday with a decision due the next day.
The incident was one of several in a heated tie between the Spanish rivals, which Barca won 3-1 on aggregate.
Both clubs lodged complaints to European football's governing body after an ill-tempered first leg at the Bernabeu, which was won 2-0 by Barcelona. (BBC Sport)
Here is the offending video, decide for yourself if the Barcelona man has a case to answer for.
It does seem that Busquets could well have directed a racial slur at Brazilian Marcelo, after all, why else would he feel the need to so over dramatically cover his mouth? Clearly if you're just going to swear at an opponent there would be no need to try to mask what you were saying as players swear at each other a millions times every match.