Hawthorns boss issues hands off warning to Anfield and Goodison Park clubs.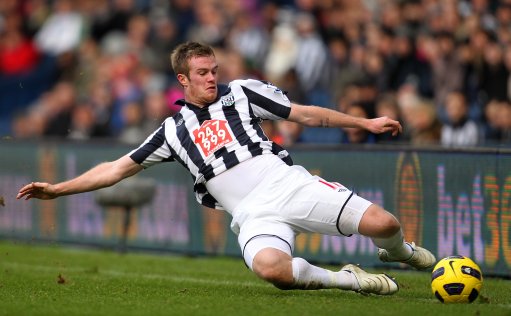 Liverpool and Everton are fighting for the services of West Bromwich Albion midfielder Chris Brunt.
The 26-year-old has become the latest target for both clubs who are looking to strengthen their squads.
The Northern Irishman has two years left on his current deal but is tempted by the move to a bigger club and the chance to get into Europe.
Brunt has enjoyed an impressive season back in the Premier League, scoring four goals and claiming nine assists in 33 games.
But West Brom manager Roy Hodgson is unfazed about the possibility of losing his stars and knows chairman Jeremy Peace will not just let his players go.
"I don't need assurances (from Peace)," he said. "I don't need them. They're under contract.
"I know from past experience of trying to get Jonathan Greening out of West Brom that the chairman is very keen on keeping the players that he wants to keep and who are under contract.
"I don't need assurances. I've never even broached the subject with him.
"The battle for Greening made me realise that West Brom don't release players they don't want to let go."