Old Trafford club pull down taunt after Eastlands side win the FA Cup.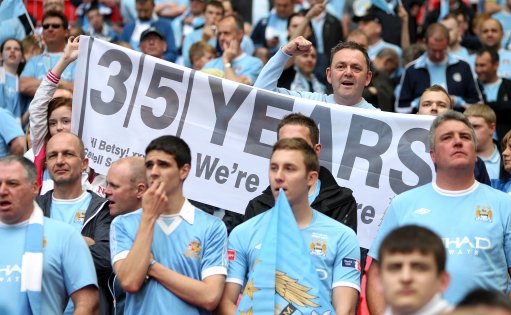 Manchester United officials have pulled down the banner which taunted Manchester City's 35-year wait for silverware.
It has been removed following City's 1-0 FA Cup final victory over Stoke City at Wembley last Saturday.
There was confusion amongst Red Devil supporters whether the Stretford End ticker would remain or if it would be changed.
It was suggested it could be wound on to 43 to mark the last time City won the league title, or even stay at 35 as the Eastlands outfit had 'bought' their trophy.
Some fans felt that would take the joke too far and there are plenty at Old Trafford who felt the banner should simply be "retired".
The banner has now been taken down but it is not known what replacement will be in place prior to United's final Premier League game against Blackpool.
"The banner has come down but a new version will be up for the Blackpool game on Sunday," Andrew Kilduff, of Stretford End Flags, told the Manchester Evening News.