Big Brother start ready to blurt out footballer who she has affair with.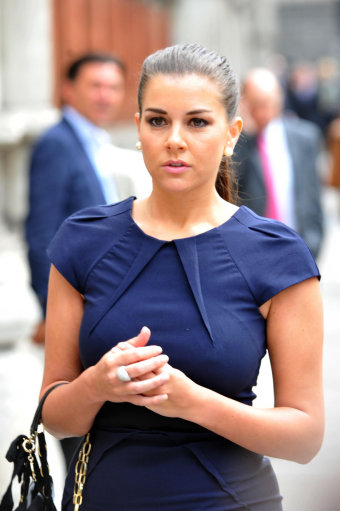 Imogen Thomas has admitted she is close to naming the top footballer she had an affair with.
The ex-Big Brother star, 28, appeared on This Morning in tears over blackmail "slurs" by lawyers protecting him.
Cautious TV bosses pre-recorded the interview and host Phillip Schofield said: "That's in case she says his name."
Imogen admitted she is on the brink of defying an injunction barring the Premier League ace being identified.
She said: "I have been so tempted to say, 'Yeah it is that person'. Why should I take all this flak? I don't know what he is going through at home but it has got way out of control and no one has heard my statement."
The model is outraged at court claims she demanded £100,000 from the married footballer to keep their affair secret. At the High Court on Monday, Mr Justice Eady said there was evidence she tried to blackmail the footballer, and that he felt he was being "set up".
But Imogen sobbed: "I warned him – if I hadn't it would be all over the newspapers. To say I tried to blackmail him is totally untrue."
She added: "I want to clear my name, I want to go to trial, I want to swear on the Bible to tell the absolute truth."
SOURCE: Daily Mirror
It must only be a matter of time that the player is blurted out and that the super injunction is then tested for it's legal merit. Do people have sympathy for Imogen Thomas on this matter or is there a sense that she made he own bed and now she has to lie in it, so to speak?