Gunners youngster on Turin radar.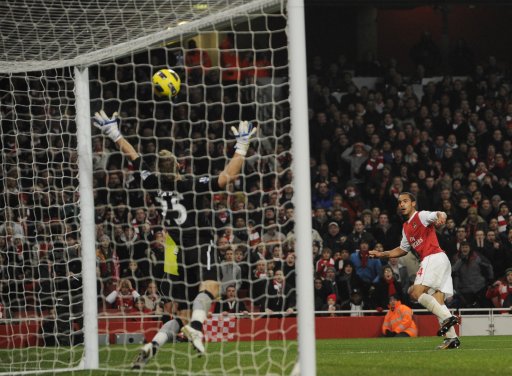 Carlos Tevez, Edin Dzeko, and Theo Walcott all high on Juventus radar
Juventus have targeted Manchester City duo Carlos Tevez and Edin Dzeko, as well as Arsenal's Theo Walcott to spearhead their new look side.
The Serie A giants have been disappointing this season – likely to finish seventh in the league – and are planning a summer overhaul to shoot them back into Champions League contention.
Reports in Italy this morning suggest the Old Lady have identified Tevez, Dzeko, and Sergio Aguero as their main targets to fill the striker's position, with Walcott and Franck Ribery candidates for the wing.
Manchester City know they're facing a battle to keep hold of their Argentinean talisman, but Roberto Mancini will certainly not welcome any bids for Dzeko, who only arrived in January for £27million.
Arsenal boss Arsene Wenger will be equally as disapproving of attempts to lure Walcott away from the Emirates, after the England international has finally started to show the promise that brought him to the club as a 17-year-old.
SOURCE: Metro
Juventus are yearning for a return to the good old days but may struggle to persuade big names to join a club that may well have a rich history but could well miss out on European football altogether with a more than likely second successive seventh placed finish. The Turin side wants to buy big this summer and Arsenal winger Theo Walcott is apparently one of Luigi Delneri's main targets.
The England wide man has had perhaps his most consistent season this term, at least in terms of end product. Eight goals and eight assists from 19 Premier League starts is pretty good going, especially when you factor in Arsenal's poor season overall.
Arsene Wenger will surely be worried that he may lose one or two of his big names after drawing a sixth successive silverware blank and a fourth place finish will be evidence enough of further decline at the North London club, decline that has led to speculation that the likes of Cesc Fabregas, Samir Nasri, Andrei Arshavin and Gael Clichy could leave the club this summer.
Walcott however seems highly unlikely to leave and Wenger will hope that the former Southampton wide man and his fellow up and coming young team-mates can add some resilience and mental toughness to go with their undoubted skill, as it appears that the Gunners lack the killer instinct needed to lift major honours.