Arsene Wenger seems unsure of skipper's future.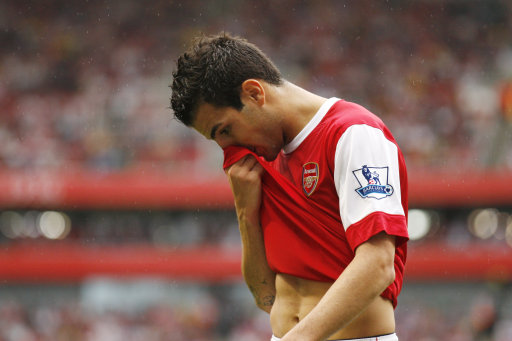 On the much speculated issue of whether Cesc Fabregas will still be at Arsenal next season Arsene Wenger said the following.
"I expect him to be here," Wenger said. "I will fight very hard to keep him here. You have always to fight when you have a player of that quality.
"I believe the biggest pride for a captain is to be committed to his club and deliver trophies to his team.
"A player who changes every time when he is frustrated that he does not win a trophy goes nowhere.
"I believe the quality of a sports life is to be committed to his club and not just move on when it does not go as well as you expected it." (Various)
Arsene Wenger's comments appear very defensive don't they. The Gunners boss appears far less confident that Cesc Fabregas will stay at the Emirates Stadium then say last term. Clearly the Frenchman could have simply stated firmly "Cesc is going nowhere" and such a stance has been adopted before and appeared to put any potential suitors in their place.
Fabregas has looked out of sorts for much of the current campaign and whatever Wenger may say, six seasons without silverware will have an impact but even more so would be the prevailing sense that other sides are beginning to push the North London team further away from major honours.
Just a couple of weeks ago Wenger angered his own supporters, who it seems were fully backing the Arsenal boss, by stating that second place in the Premier League was "no disaster" but now seems more likely to end the season in fourth spot.
What does seem nailed on is that Cesc Fabregas would not choose to leave Arsenal for anyone other than Barcelona and even though a move to the Nou Camp may not result in regular first team football it seems that is an option that the 24 year old is more than open to.