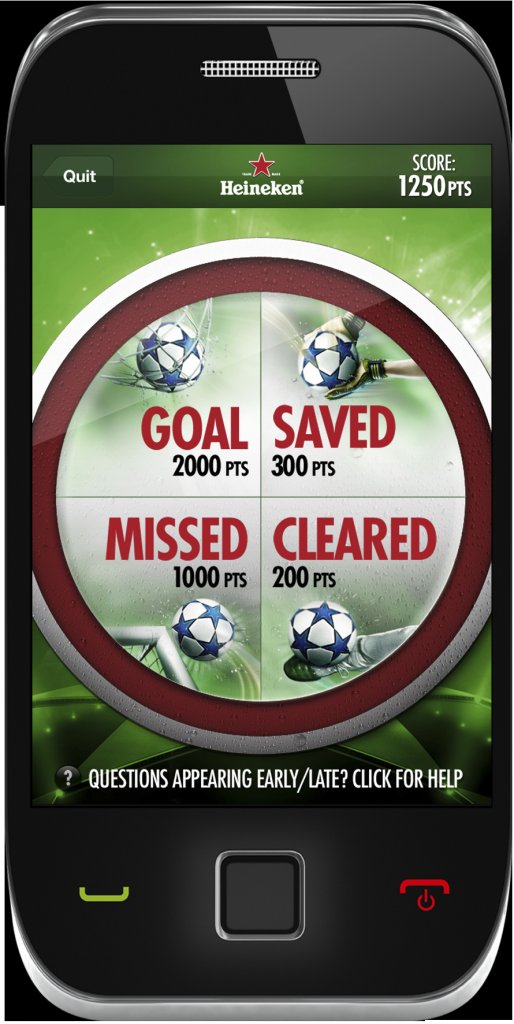 The Heineken Star Player app is a pretty ingenious piece of kit. Basically it manages to combine the excitement of watching a live game whilst also offering you the change to get involved as the game is actually going on with a nice little game interface.
You basically take part in real-time with the action that is occurring in a Champions League match, but no much that it affects your enjoyment of the game itself, the interface pops up during corners, free-kicks and other occasions and works surprisingly well to heighten your enjoyment of the game itself.
In fact if the game itself is boring the 'dual screen' enjoyment can add something that the real football players are not offering you. It's easy to use and can be enjoyed on your computer, iPhone or iPod touch.
StarPlayer, a unique overlay to live football matches and represents the first global example of a social media gaming platform. Fans watch the football on TV while playing StarPlayer in real-time, anticipating events unfolding on the pitch live and making decisions on what will play out over the next few seconds. The use of 'dual screen' technology that involves time-dependent decisions on passages of open-play makes StarPlayer a world-first innovation.
To score points, fans anticipate what will happen at key moments such as corners, free kicks, and penalties, for example whether the shot will be saved or whether there will be a goal in the next 30 seconds. With every correct forecast, fans gain points. Through the 'Interactive Champions League', they can also compete and share with their friends via Facebook and with other players around the world.
To get on board via the Facebook connection CLICK HERE
CLICK HERE to Visit iTunes to download the app