FIFA president surprisingly open to calls for re-run.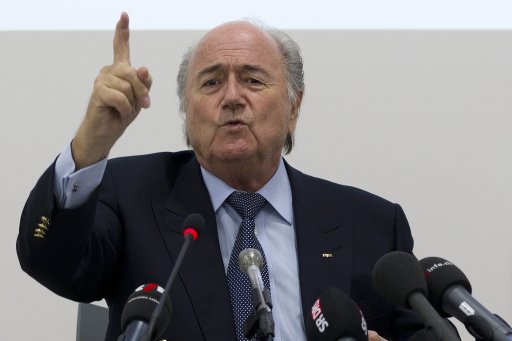 FIFA president Sepp Blatter refused to rule out a re-run of the 2022 World Cup bid vote if bribery allegations are proven after announcing that the whistleblower at the centre of the claims has agreed to go to FIFA to give evidence in person.
The whistleblower alleged that FIFA members Issa Hayatou and Jacques Anouma were paid 1.5million US dollars each to vote for Qatar, according to evidence given to a Parliamentary committee by the Sunday Times. The pair deny the claims. Blatter said the newspaper has agreed to bring the whistleblower to Zurich to testify in person but would not be drawn on the possibility of a re-vote taking place.
He said: "This is an idea circulating already around the world which is alarming. But don't ask me now yes or no, let us go step by step. It's like we are in an ordinary court and in an ordinary court we cannot ask: 'if, if, if'."
Blatter, speaking in an interview at FIFA headquarters, added: "We are anxiously awaiting for these evidences or non-evidences in order that we can take the adequate steps.
"We will organise and the newspaper have agreed that we will bring this whistleblower here to Zurich and then we will have an investigation of this."
The interview will be conducted by FIFA general secretary Jerome Valcke and legal director Marco Villiger, and will also cover the whistleblower's claims that Nigerian FIFA member Amos Adamu had agreed to the cash-for-votes deal with Qatar only to be suspended for the vote. (Eurosport)
Could it really happen? Is the FIFA chief ready to admit failings to the point that he would instigate a new round of voting? If so, would Qatar be able to take part? Would such a re-run also occur for the 2018 vote which has also been tarnished with allegations of alleged bribery?
It could be that Mr. Blatter knows he has to be on his best (least mad) behaviour in the run up to the presidential election next month, after which he will revert back to the mad scientist approach he has adopted for the best part of 14 years.