The social network that allows Old Trafford star to be himself, warts and all.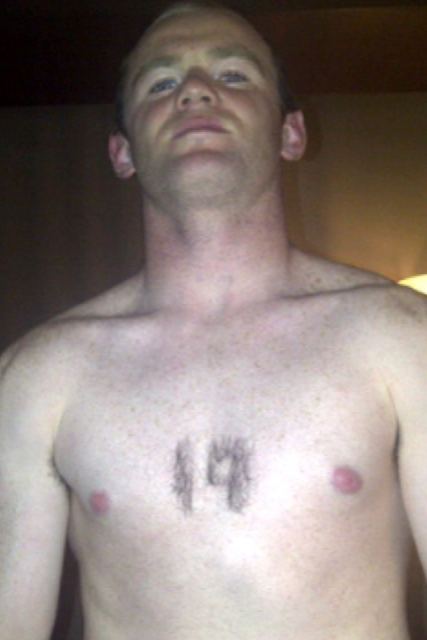 You can never really tell what a footballer is thinking. Is the public persona we are allowed to see a front manufactured and polished by PR executives?
It's not often the guard drops but when Wayne Rooney joined Twitter it seemed to be a matter of when and not if he would share with us some comments which would never have been cleared by advisors.
Yesterday after he'd converted a penalty to help United win the league, he shared a picture with his 500,000 followers of his newly trimmed chest hair. It has been shaved to simply leave the number 19, to mark his club's record number of titles.
Later, having consumed more than a little pop, he got even more direct.
"A scouser knocks Liverpool of there perch. Haha. An evertoniian aswell. Yes. People. U can't imagine how happy I am tonight. Believe"
"Utd til I die. Everton til I die. Believe. Come together. The beatles. Leg."
Manchester United supporters have always known that Everton is his team. I suspect the majority don't care. Once a blue always a red doesn't quite ring true. Once a blue but I love playing for United would be closer to it.
It's not the Everton references that will be remembered most. Anyone who has been near United supporters of late will know that overtaking Liverpool's record haul has been a welcome bonus this year. Wayne Rooney's comments and his apparent willingness to rub Liverpool's noses in it will go a long way to completing his acceptance back into the fold.
Short of being pictured throttling a Liver Bird whilst having 'I hate Carlos Tevez' tattooed onto his forehead, there isn't really anything he could have done to endear himself more to the most fractious of United supporters.
It was another step in the right direction for him. Another had come earlier when strangely his burst of obscenities at a camera helped him connect more with supporters of the club.
He'd been singled out. It helped him become one of theirs again. Sure, they thought, we can criticise him but outsiders can't. A cobbled together defence of a player brought the previously warring sides closer even if they didn't realise it at the time. They knew Rooney had been a bit of an idiot but he was their idiot.
Where once there was mistrust and anger, there now seems to be a recurrence of the bond built with Rooney when he made the move to Manchester at just 18, and that bond matters to him.
You see if ever a player typified the siege mentality it is Rooney. He can have the world hate him but if he feels those in his corner are right behind him then he's happy to take that world on.
He's a fighter. That burning rage inside needs to be channelled and he needs to be fighting for something or someone.
You could see this in his celebration after scoring an overhead kick against City. Arms outstretched as if he was letting the adoration seep through his skin and provide fuel for future battles.
I did it for you. You can rely on me.
If Wayne Rooney enters next season feeling he has a cause and a following to fight for then it may just be his best yet.
You can follow Annie Eaves on Twitter at @AnnieEaves