Eastlands striker changes his mind again.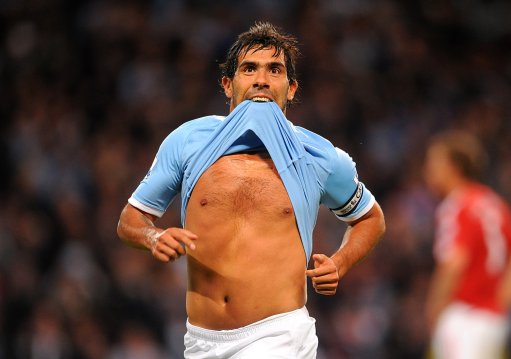 Carlos Tevez has announced that he will be looking for a move away from Manchester City this summer.
The Argentine's future has been called into question on a regular basis throughout the 2010/11 campaign.
He handed in a transfer request last December, only to then backtrack and commit himself to the City cause.
The burly striker had hinted in the wake of City's recent FA Cup success that he would be sticking around, providing his family were happy.
Tevez has, however, completed another U-turn by declaring that he now wants out of City during the upcoming transfer window.
The 27-year-old has been strongly linked with a move to Italian giants Inter Milan of late and the news that he is set to be available is likely to spark a scramble for his signature across Europe.
"I want to leave Manchester City," Tevez, told Argentine station Radio del Plata.
"Football has changed a lot for me and I don't know if I will even make it to the next World Cup. And that has nothing to do with whether I'm selected or not.
"I've been treated very well here and I'm grateful.
"I also gave my everything for the club to receive the results it has had. But I need a change of scene."
On where he might end up, Tevez added: "To go back to Boca Juniors would be beautiful but it is very difficult.
"But if we're speaking seriously, financial issues would make my return difficult." (Sky Sports)
So originally many sources had stated that Carlos Tevez was homesick and that his main motivation for wanting to leave Manchester were due to his, and his family's, desire to return to Argentina. However these quotes only touch on the possibility of a move to Boca Juniors, with a neat caveat stating that financially that would be very very unlikely.
A move to Madrid would of course geographically lead the striker no nearer to Argentina, but he could of course claim that Spain is nearer to the lifestyle he is used to but such an argument will not cut it with many of the Man City fans who idolise the 27 year old striker.
The fact that Roberto Mancini's side captured a coveted Champions League spot and won their first significant silverware in eons appears to matter not a jot and one wonders if it is really worth the Premier League side trying to even bother keeping the former Man United and West Ham man.
It may be best to cash in on the in form striker rather than continually try to bow to his concerns and demands and on the plus side Mancini has a number of other striking options at the club and seemingly limitless funds to bring in new signings.
Real Madrid would probably be the most likely destination for Tevez as Jose Mourinho has made it clear he wants a new striker but Man City would be wise to demand a huge fee for a striker who is one of the best in the game at present.