How much!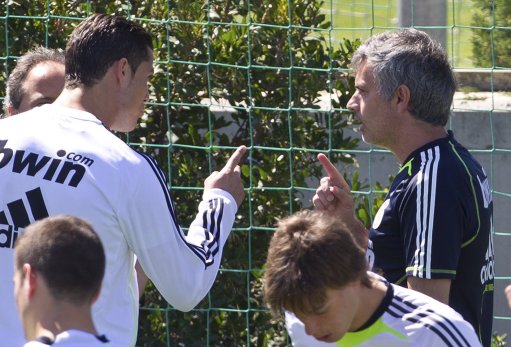 Real Madrid are ready to stun the football world by putting Cristiano Ronaldo up for sale for a staggering £150million.
Sportsmail understands a major rift has developed between the star Portuguese forward and Madrid manager Jose Mourinho following a training-ground row, and club president Florentino Perez is reluctantly willing to listen to offers.
Madrid paid a world-record fee of £80m to Manchester United in 2009 and Perez has said he would want to make a significant profit to appease the supporters for the sale of their best player. Ronaldo, after all, was seen as Madrid's answer to the dominance of Barcelona.
While there would be numerous suitors for his signature, even top clubs will balk at the astronomical fee and the player's wages. At Madrid he commands a salary of 20m euros a year, leaving him with 12m euros net – more than £200,000 a week. It might take a net weekly wage in excess of £300,000 to prise him away from Spain.
SOURCE: Daily Mail
Blimey. That's a lot of money. However it does seem that Sheikh Mansour, Manchester City's owner, could probably quite easily cover that sum but it seems highly unlikely that Cristiano Ronaldo would consider a move to the Blue half of Manchester, having for so many years been a hero at Old Trafford.
There has been much speculation of some sort of falling out between Ronaldo and boss Jose Mourinho but given that any problems between the two have clearly not affected the Real Madrid attacker and haven't prevented Cristiano from netting an astonishing 51 goals this season, one would imagine that the two can happily not be the best of friends and still go about their daily duties.
With a stellar valuation of £150m and a salary offer of £300k a week needed to sweeten the deal it stands to reason that only Man City could afford to justify such an outlay and they appear to be one club that the Portuguese international would surely not consider joining.
The sums being banded about would surely even rule out a move from Chelsea, unless of course Roman Abramovich was keen to flex his financial muscles, but again a move back to the Premier League to anyone other than United seems a big stretch.