Decision to pick the full England stars for the U21's is nonsensical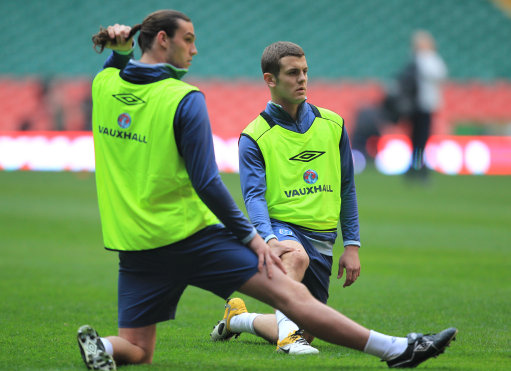 There's no two ways about it: selecting Jack Wilshere and Andy Carroll for the European Under-21 Championships this summer is an exercise in futility.
Both men are proven full international footballers. Wilshere, in particular, is now one of the first names on the England team sheet and it appears to be only a matter of time before Carroll is another.
Arsene Wenger, Wilshere's club manager at Arsenal, has every right to feel aggrieved with Stuart Pearce's decision to pick the youngster. Liverpool counterpart Kenny Dalglish – publicly, at least – may not share his anger over Carroll, but there's no question that both players have shown their talents to be above and beyond the realms of U21 football and that their efforts are best concentrated upon being fully prepared for next season and – hopefully – another twelve months of development.
The Frenchman is peerless in world football in the art of nurturing talented, young footballers. Wilshere is just the latest on a conveyor belt that also developed Patrick Vieira, Thierry Henry, Ashley Cole, Cesc Fabregas and numerous others. When he says that "it is normal that you play many games, but there is a number you have to respect. Make sure you do not make a mistake with a promising player", you take note.
Wilshere has played 48 games for Arsenal this season and thoroughly earned his PFA young player of the year award. He has shown himself to be the most prodigious, young talent in English football and he plays with a sophistication and maturity that some players never learn. In two Champions League ties against Barcelona – a team heralded as football's best ever, no less – he rubbed shoulders with Iniesta, Xavi and Sergio Busquets and didn't for one second look out of place.
At best, the most this amiable young man can hope to learn surrounds the rigours and format of international tournament football. As a player, it won't improve him in any other way.
In fact, it's a realistic concern that taking part could hamper his development. Over 48 games have been played since August 2010. Not resting this summer and then embarking on another season of anywhere between 40-60 games for Arsenal would be a struggle for a seasoned athlete in the Michael Essien mould, let alone a young man who's still years away from reaching his physical peak.
Next season also culminates in Euro 2012, where it's safe to assume that Wilshere will be an integral part of England's plans. In other words, Fabio Capello – assisted by Stuart Pearce – will pin many of his hopes on a young player who won't have had a substantial rest in two years.
The same, of course, applies to Andy Carroll.
His remarkable rise has seen him go from a Championship striker to the most expensive English player to date within a matter of months. Question marks may continue to surround the £35 million fee Liverpool paid to secure his services, but he's proved – with impressive regularity – that he can compete with the best and that he's an international class striker. There's not a defender in the game who looks forward to playing against this young Geordie whose physical presence mimics a peak Mark Hughes or Alan Shearer.
While it would unquestionably be good for England's rising stars to win the tournament this summer, including Wilshere and Carroll won't guarantee that success. The argument is that, should the u21's succeed this summer, those who force their way into the senior side can bring their experiences with them and hopefully inspire another triumph.
Sorry, but that's too much of a gamble. Risking two potential key player's fitness in the faint hope of adding further mental strength to the England team seems more like a hollow gesture than Capello's 'intention' to learn English.
There's not a worthwhile trophy in club football that Wayne Rooney, Steven Gerrard, Frank Lampard and Rio Ferdinand haven't already won. There are numerous winners in the England squad; they're just incapable of repeating their feats at international level. Wilshere and Carroll, between them, won't amend that by winning an U21 tournament.
Nor does picking them do justice to the fundamental purpose of developmental football: youth teams exist to nurture, not win.
It is one of the biggest criticisms of English football that youth players are encouraged to win instead of developing their talent. This has been highlighted with alarming regularity and been underlined as an element of our game that needs changing if something is to be done to amend our discernible inability to produce regular, world-class talents.
Trevor Brooking, the man charged with overhauling English football's youth development strategy, emphasises this: "We want them passing the ball and making them better players. You've got to have the fun-factor for individual technical development."
Brooking is a powerful figure at the FA, he should know. He believes this so strongly that it's almost becomes his mantra. Why then, is Pearce not following this? The U21 team is there to provide and develop players for the full side. Once they've made the grade – as Wilshere and Carroll have – there should be no reason for them to make the step back down.
Both players may well be willing. Whether it's genuine or because they fear a David Bentley-esque backlash, they need protecting from themselves. Football is littered with examples of young men who could have used stronger guidance at a young age – Paul Gascoigne is possibly the quintessential example of this. Ultimately, the decision should be taken out of their hands with both men being forced to rest.
For those in charge of the U21s, this entire episode smacks of being a selfish pursuit.
English football has suffered too many times for failing to look at the bigger picture. As burnout is a very real possibility, this could yet be another.
Follow Declan Warrington on Twitter @decwarrington