Emirates hit-man's father hints at exit with San Siro or White Hart Lane his likely destination.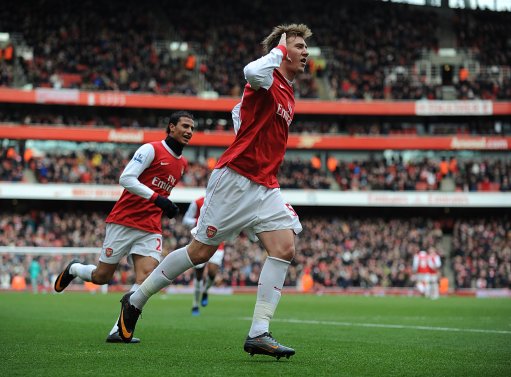 Arsenal striker Nicklas Bendtner will leave North London this summer according to his father and agent Thomas Bendtner.
The 23-year-old has grown increasingly frustrated at his lack of first-team opportunities this summer and has lost all patience with the lack of silverware being brought to the Emirates.
The news will likely spark bids from a number of European clubs with Bayern Munich and Tottenham Hotspur the early favourites to capture his signature.
Bendtner Snr. says his son has informed manager Arsene Wenger he will leave the club but dismisses a move to Aston Villa has been lined up.
"Nicklas is 100 per cent open now to a change of clubs," Thomas Bendtner said in the Daily Mirror.
"He has made his decision and he has told it to Arsenal.
"Nicklas needs to be playing from the start so, sadly, he must leave.
"He wanted to finish the season first, so no-one could say he didn't fight for a first-team place right until the end."
"There is real interest from both English and German clubs, and Bayern Munich were after him, earlier. It's very exciting.
"But talk about Aston Villa is rubbish. He has not met anyone from there."