Busy summer ahead of Emirates Stadium boss.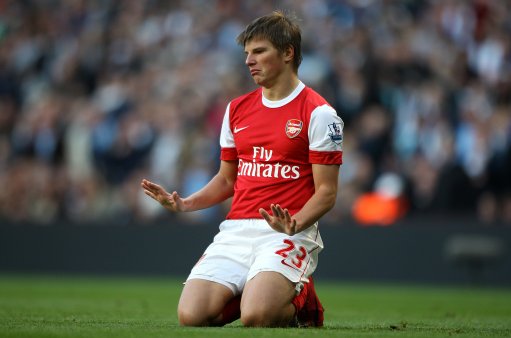 Arsenal's Andrey Arshavin is a cut-price £7million target for his former club Zenit St Petersburg.
Arsene Wenger is prepared to listen to offers for the Russian midfielder, but Arsenal may be reluctant to take such a big drop on a player signed for £12m just two years ago.
Arshavin, who turns 30 next week, is the biggest name in an expected summer clear-out at the club, with Nicklas Bendtner, Denilson, Abou Diaby, Carlos Vela, Emmanuel Eboue and Manuel Almunia also set to go. Gael Clichy will be sold too, unless he signs a new deal.
Udinese are also watching developments on Arshavin, while Sevilla, Roma and Wolfsburg are keen on Denilson who admitted: "The next few weeks will be decisive for my future."
Real Madrid like Bacary Sagna, but Arsenal do not want to sell their right-back, who was in the Professional Footballers' Association team of the season.
SOURCE: Daily Mirror
It seems that Arsene Wenger has lost patience with some of his under performing stars and is willing to cash in on their services in order to re-invest in his Gunners squad.
Andrei Arshavin has had an up and mostly down season and at times has looked disinterested, as a result the Russian lost his place in the starting eleven amid speculation that the 29 year old may be homesick, a claim that the attacking midfielder has denied on several occasions.
Interest from his former employers at Zenit may however appeal to Arshavin and given his age it may be a move that Wenger considers allowing.
Abou Diaby's continued inconsistency has become too much for Wenger and strikers Carlos Vela and Nicklas Bendtner are no nearer regular first team football than they were twelve months ago.
Manuel Almunia has dropped one to many clangers and the emergence of Wojciech Szczesny has rendered the Spaniard's presence in the squad somewhat redundant, not least as Arsenal are apparently keen on bringing a experienced keeper as a starting keeper to keep the impressive young Pole on his toes.
Brazilian Denilson has already stated his intention to leave the club and a move to La Liga may be more likely than a move to Germany. Utility player Emmanuel Eboue will be sacrificed after some decidedly average displays.
There doesn't appear to be a huge need for Arsene Wenger to sell players in order to accrue transfer funds given that Stan Kroenke is reportedly ready to bankroll significant moves in the summer transfer market.