Chelsea's quest for a new managerial maestro goes on.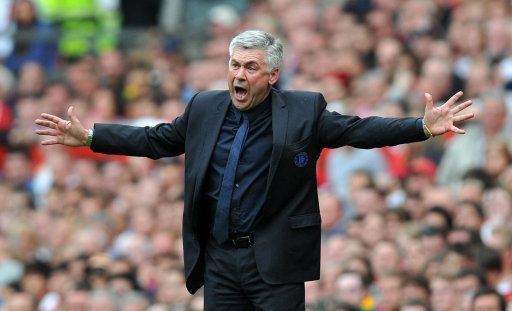 It appears following Carlo Ancelotti's sacking, long-time Abramovich ally Guus Hiddink is primed to take the hot-seat.
The managerial position at Stamford Bridge has become somewhat of a poisoned chalice, with a lack of success not tolerated. The Kings Road will be welcoming its eighth new boss since the inception of the billionaire era at Chelsea in 2003.
Ancelotti has every reason to feel hard-done by. Chelsea appears to have adopted the Spanish mantra of 'win now at all costs', an ideal that doesn't fit with the extremely competitive nature of the Premier League.
Back At the Top
It was only 12 months ago that Chelsea had reclaimed their perch at the top of the English football, adding to that with success in the FA Cup final. But an end of season resurgence does not seem to have erased the memories of a below-par season in Abramovich's mind.
The former Milan manager had, somewhat ironically, stepped into the shoes vacated by Guus Hiddink following the end of the 2008/09 season. As a two-time Champions League winner with the Rossoneri, he had the vital ingredient for Roman's ideal resumé recipe.
He has gotten the best out of players that had previously underachieved on the field. Salomon Kalou, Florent Malouda and Jon Obi Mikel have all improved under Ancelotti's tutelage, and provided important cogs in Chelsea's goalscoring machine.
However, his failure to get the utmost from 'Abramovich's signings' may have counted against him in the final verdict. Yuri Zhirkov has been a spectacular failure since his £18m move from CSKA Moscow two years ago. He has been unable to displace either Ashley Cole or Malouda down the left flank, and only makes fleeting substitute appearances.
Then there's the Fernando Torres signing. £50m is a monumental price to pay for a solitary league goal. He was viewed as the catalyst for a Chelsea title charge, yet Ancelotti has found him unable to strike a partnership with either of the established striker duo, Anelka and Drogba.
It may appear to be that Torres will replace Drogba in the starting line-up next season. His absence from the match-day squad against Bolton indicates all is not well for the Ivorian, and he could well follow Ancelotti out of Stamford Bridge this summer.
Replacements
So what of the potential successors to the Italian?
Guus Hiddink seems to be the overwhelming favourite. His popularity with players and fans alike, and friendship with Abramovich, seem to have him as the early front-runner. Plus, being unluckily denied a spot in the Champions League final twice (PSV 2005, Chelsea 2009) can not do him any harm. One issue would be his position with Turkey, and whether he would resign.
The Dutchman Marco van Basten has been mentioned in connection with the post. His high-profile name may be the only thing in his favour, as he failed with his only recent club experience with Ajax. He did take Holland to the semi-finals of Euro 2008, but reported unrest in the camp damaged team morale.
Andre Villas Boas is a surprise consideration for the post. His managerial naivety will be a hindrance, but his unprecedented success at the age of 33 mean he will definitely merit consideration. He speaks English, plus there is the well-trodden path of Porto-European success-Chelsea, and we all know who walked that road before.
A former Chelsea midfielder could be the ideal candidate for the job. Didier Deschamps played at Stamford Bridge during the 1999-00 season, and would be familiar with surroundings at Chelsea. He has won 4 trophies since becoming Marseille manager in 2009, and having only one year left on his deal means compensation would not be excessive.
Baptism of Fire
Whoever gets the job must note that they need to hit the ground running. Ancelotti's dismissal proves that the past counts for nothing, and the 'win now' mentality is all that will sustain a Chelsea boss' shelf-life.
Whether that will be the ideal that brings Chelsea more success in the long-term, only time will tell. It cannot be a coincidence that with rivals Manchester United and Arsenal, they stuck with managers despite trophy-less seasons, and have reaped rewards with this consistency at the helm.
Short-term success will be all Chelsea will attain with chopping and changing the managerial every other season. If the next boss is given time, and more importantly Abramovich's backing, he can build a team and mount a permanent challenge for domestic and European success.