Estadio Vicente Calderón star tell club he wants to leave with Stamford Bridge or Eastlands his most likely destination.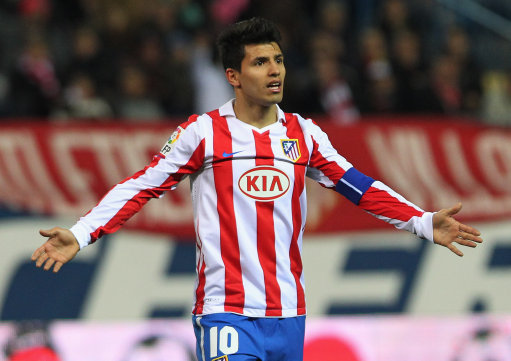 Manchester City and Chelsea are set for a £42million battle over Atletico Madrid striker Sergio Aguero after the star told his club he is leaving.
The 22-year-old has been in incredible form this season, scoring 28 goals in 38 appearances in all competitions.
But after five years at the Estadio Vicente Calderón, the Argentine international told the club's hierarchy he would be leaving.
Aguero revealed on Twitter and his official website that that he has asked the club to consider offers.
The star said he wanted to leave last summer last summer but was convinced to stay for the fans he adores and is not leaving for financial reasons.
"I said long ago that when I wanted to go, I would say publicly. And the time has come," Aguero said on his official website.
"So I keep my word and here I am. I find it hard to leave Atletico. It hurts and saddens me."
"I've thought long and hard and I am convinced that I must be true to myself. I do not think I put a ceiling on the ability to keep learning, to keep growing.
"After five intense years, this stage for me personally is over and I have to give way to a new one.
"I'm about to turn 23 and I have everything before me. Suffice it to say that this is not an economic issue but strictly a sporting one.
"So I want to clearly express my appreciation to the club for the efforts they have made for giving me a salary that equates with the largest clubs in the world.
"I want to say also that this decision has been maturing for some time. The issue was discussed and agreed with Atletico last year when I was renewing my contract.
"I wanted to sign as a way to give back to the club for all the support they have given me. Had I not done so, they might not have received any more for my transfer.
"I received then a promise that the club would not stand in my way if I wanted to leave this summer.
"Therefore, in line with that commitment and my decision, I have asked them to listen to any offers they receive for me from different clubs."