On-loan San Siro hit-man is interested in move to San Siro despite Eastlands interest.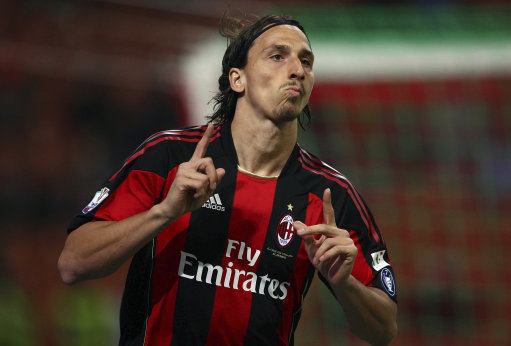 On-loan AC Milan striker Zlatan Ibrahimovic is contemplating a move to part club Barcelona's biggest rivals Real Madrid.
Corriere dello Sport reports Los Blancos manager Jose Mourinho wants to be reunited with the player he worked with at Inter Milan.
This is bad news for Manchester City boss Roberto Mancini who was contemplating a move for the 29-year-old.
But details of the move are still to be decided and could be complicated by the Swedish international's parent club Barcelona.
The Nou Camp side would be unhappy to sell one of their players to Madrid because of the intense rivalries between the two teams.
They would much prefer to sell to City or to make his loan deal at AC Milan permanent, who has £24million agreement in place with the Rossoneri.
Ibrahimovic's agent Mino Raiola did not deny Mourinho has been in contact with the player but did drop a hint that the Madrid president Florentino Perez could be about to make an offer.
"If it was an important proposal (from Real Madrid) and Milan want to pass it, I think Ibrahimovic would go," Raiola said.
"Proposals have already arrived (for his signature), but he has no intention of leaving or has given his willingness to be traded.
"That's not important (if Mourinho has been in contact). It is, however, if Florentino Perez has called (the CEO of Milan, Adriano) Galliani and presented him with a cheque."