Old Trafford club's success on the pitch is rewarded in their bank account.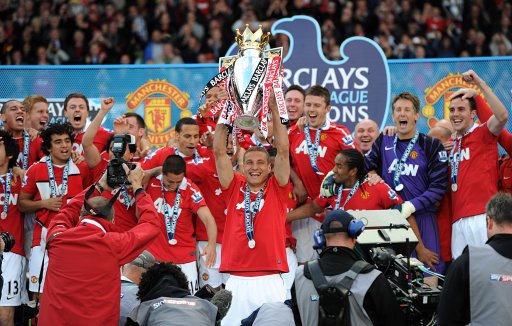 Manchester nited are the first club to earn £60million from Premier League prize money and TV revenue.
The Red Devils winning the Premier League title for the 12th time (19 league title in total) saw them bring in £60.4million.
The reason for this increase, compared to previous seasons, was the new record overseas TV deals that saw top-flight clubs bring in £7million more than last season.
Chelsea were next on the list with £57.7million, then Arsenal received £56.2million and closely followed by Manchester City with £55.5million.
Blackpool were the lowest earners in the entire division receiving £39.1million according to figures released by the Premier League.
TV rights money are distributed based on performance, via equal shares of TV income and on the number of times the club is screened live on domestic television.
This season, each team received £13.8million as the equal share of domestic TV rights and £17.9million as the equal share of overseas TV rights.
On top of that, every place in the Premier League table is worth £756,000 – West Ham received that amount and Sir Alex Ferguson's side got
£15.1million.
Facility fees of £582,000 are paid to a club every time they play in a live TV match – with a minimum income of £5.82million even if a club has been involved in fewer than 10 live games.
The details also show that it has the smallest difference in earnings between the champions and the bottom club in terms of ratio of any major league in Europe.
England's top club (United) earned 1.54 times as much as West Ham United at the bottom in TV money – down from 1.66 last season.
In Spain, where TV rights are negotiated on a club-by-club basis, Real Madrid and Barcelona earn 12.5 times more than the smallest clubs in La Liga.
Premier League chief executive Richard Scudamore insists this financial level playing field contributes to the competitive nature of England's top division.
"We believe that our income distribution mechanism, the most equitable of Europe's major football leagues, rewards sporting success while also guaranteeing a significant amount to each club in order that they can plan from one season to the next," he said.
"Many have commented on the competitive nature of this season's Barclays Premier League.
"The clubs deserve huge credit for putting on a fantastic competition. We believe the way we distribute broadcast income plays a part in allowing each club to compete at the highest level."