Zurich pair to be investigated just days before Presidency vote.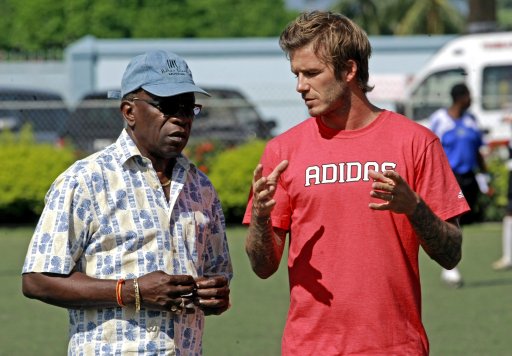 Fifa will investigate four executive committee members including Jack Warner and Mohamed bin Hammam over bribery allegations.
The inquiry will begin on May 29 just days before the committee will meet to vote for the next president of the World's governing body of which Bin Hammam is the only candidate running against Sepp Blatter.
The allegations were made by the USA's executive committee member Chuck Blazer.
The American claims Fifa's code of ethics was violated at a meeting on May 10 and 11 organised by Bin Hammam and Warner.
The meeting was in relation to the Fifa presidential election, which takes place on 1 June.
The other two officials are Debbie Minguell and Jason Sylvester from the Caribbean Football Union.
This is not the first time Warner and Bin Hammam have been caught up in bribery scandal, and it is not the first time in the last few weeks.
Warner, the President of Concacaf and Fifa's vice-president, has been accused of touting tickets and asking the England 2018 bid team to build a soccer centre in return for his vote.
Bin Hammam has been caught up in the Sunday Times investigation that accusses his close aide of fixing deals with Fifa ExCo members to gain votes for Qatar's 2022 World Cup bid.
Fifa has announced Claudio Sulser, head of the ethics committee, will not take charge of the hearing as he shares Swiss nationality with Bin Hammam's presidential rival Blatter.
The committee's deputy chairman Petrus Damaseb of Namibia will instead chair proceedings.
"On May 24 2011, Fifa executive committee member and Concacaf general secretary Chuck Blazer reported to Fifa secretary general Jerome Valcke possible violations of the Fifa code of ethics allegedly committed by officials," a Fifa statement read.
"In particular, the report referred to a special meeting of the Caribbean Football Union (CFU), apparently organised jointly by Fifa vice-president Jack Warner and Fifa executive committee member Mohamed Bin Hammam, which took place on May 10 and 11 2011.
"This meeting was linked to the upcoming Fifa presidential election.
"In view of the facts alleged in this report, which include bribery allegations, Fifa secretary general Jerome Valcke, in compliance with article 16 of the Fifa code of ethics, yesterday requested the Fifa ethics committee to open ethics proceedings."