Anfield legend thinks the club is back on the right track.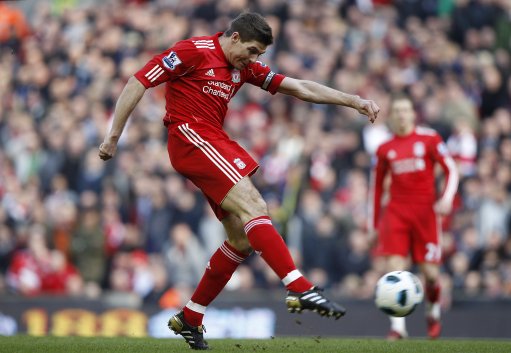 Liverpool captain Steven Gerrard says his club will regain the Premier League title from rivals Manchester United next season if they strengthen their squad.
The Reds have been re-born under manager Kenny Dalglish following a horrendous spell under Roy Hodgson which saw them flirting with relegation.
Gerrard feels the manner of the performances bodes very well for next season and paid special tribute to Dalglish for his role in turning around Liverpool's season.
While he warns against spiralling expectations, he is very optimistic about what could be achieved if the club is active in the transfer market once again.
"I am delighted with the way we have been playing, generally," Gerrard told the Mirror."It makes me feel very enthusiastic about next season.
"If we can maintain the form we've had recently, get our injured players back fit, bring a few top quality signings through the door, you never know what might happen.
"With the belief we have running through the squad, and with the outstanding players we already have, we know we can approach every game with a great chance of coming out on top."
"Kenny has given all the lads in the squad the freedom to go out on the pitch and express themselves, in both training and matches, and that's important," he added.
"When you are playing good football, it gives you confidence to have the bottle to press high up and win the ball back, and that has been the key for us.
"The danger of course, is becoming complacent.
"We can't believe we are suddenly fantastic, because even though we have improved, there is an awful lot of work ahead if we are to genuinely mix it with the teams at the top.
"But with top quality signings, who knows what we can do."