Ex-Argentina international loses political battle to Mourinho
Watching the Champions League Final?
at Fanatix.com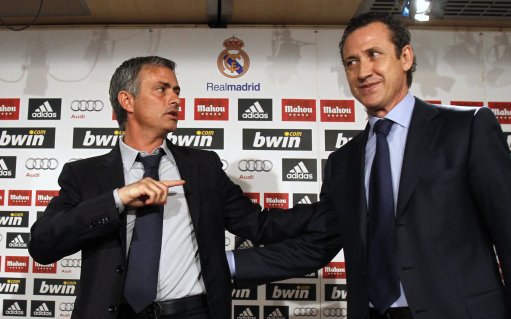 It finally happened. Jose Mourinho took on – and defeated – the machine.
Vicente Del Bosque, Carlos Quieroz, Vanderlei Luxembourgo, Fabio Capello, Bernd Schuster and Manuel Pelligrini are just a few examples from the pantheon of Real Madrid managers who have tried, and failed, to achieve sustained success at this most dictatorial of institutions.
Football's greatest unwritten rule – and also the one that is overlooked with the frequency of a Nani dive – is that continuity and freedom at managerial level are the key ingredients to long-term success at any given club.
This season, Mourinho has periodically looked destined to be the next managerial departure from the Bernabeu having not succeeded in winning a league title and regularly clashing with the club's board. Until now, the Portuguese coach – unquestionably one of world football's very best – has had to battle to receive the backing he felt he needed to take on Barcelona.
So news of the departure of his political nemesis, Jorge Valdano, comes as both a pleasant surprise and a symbolic success for the role of the football manager in the modern game.
Real's infamous President, Florentino Perez – himself guilty of inhibiting any potential success his club could have enjoyed in recent years – said of Valdano's departure: "The experience of this just completed season demonstrated the need for more autonomy, including within the coaching unit.
"Mourinho demanded an autonomy on the sporting side like that which works with English clubs. I think for the sake of the institution that this is a reorganisation that has to be done".
Not for one fraction of a second is he wrong. It's board level interference that has proved to be one of the decisive factors in hindering attempts to secure the likes of Rafael Benitez and Arsene Wenger as manager, in recent times.
In a week where Carlo Ancelotti was dismissed for failing to repeat 2010's double success again this season – where the unfortunate added ingredient of interference from a certain Russian oligarch was an obvious barrier – and where Neil Warnock's future at Q.P.R is uncertain despite winning the Championship title, news of Real's new approach is certainly refreshing.
It's an approach that still needs to be stuck to; fewer clubs have signalled as many false dawns as Los Blancos and it's a realistic concern that a minor run of unfavourable results could mean a return to their encroaching ways. But the fact that such a notoriously power-hungry institution has finally acknowledged the sense in letting a manager do his job is encouraging, nonetheless.
Football is littered with examples of interference from those who like to believe they know the game better than their manager. They let their romantic, fanciful notions influence their decision-making and compromise a manager's good work.
Martin Jol was forced to work with a director of football at Tottenham who bought players he didn't want or feel he needed. When the side struggled, it was Jol who solely got the blame and was replaced by Juande Ramos when the likelihood was that he could have succeeded had he been allowed to buy players of his choice. It wasn't until Harry Redknapp was put in sole charge that the club made the top four.
Gianluca Del Nani, not Alan Curbishley, was in charge of transfers at West Ham which inevitably led to the latter's departure. They'll now be playing in the Championship next season, something that would have been highly unlikely if Curbishley was still there.
Abramovich bought Andrei Shevchenko for Chelsea – did he succeed? Robinho was bought for Manchester City yet neither Mark Hughes or Roberto Mancini wanted to keep him. When has Mike Ashley's interference ever really helped Newcastle?
It's significant that these changes have happened at Real Madrid and with Mourinho; there's not a higher profile club and manager combination anywhere. When he succeeds – and there's no question that he will, sooner or later, particularly if he can outlast Pep Guardiola at Barcelona – then they can serve as an example to clubs everywhere.
Valdano was by no means an innocuous figure at Real. He succeeded there both as a manager and player and is fondly thought of by many a fan, though he'll be firmly forgotten about if a league title or the Champions League is won in the near future. Regardless, the point is that if Real's board can somehow, somewhere, muster enough humility to see the error of their ways, any club can.
Unfortunately, there'll always be a Silvio Berlusconi in charge at a club, always be an Abramovich. Those who leave the manager to do their job – Barcelona and Manchester United are just two examples – will continue to take the spoils.
Football is not about to undergo a cultural revolution, but this move will still encourage managers everywhere. Justice has been served.
Follow Declan Warrington on Twitter @decwarrington